University Center Special Events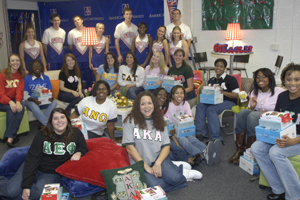 Student gather for a volunteer service program in the University Center














The University Center sponsors a few fun activities for AU students who live on- or off-campus. Programs are typically held on weekends after 9 pm and during the weekday during the dinner hours.

Past programs include: Movies, bingo, game nights, dance lessons, karaoke nights, and much more.  Students are involved in the planning and execution process to help create ideas and make them into reality!
Programs are usually co-sponsored by student groups and university departments - and they all take place in the University Center.  Most events are free for AU students.
Whether you stop by for a few minutes or a few hours, there's always something to do at the UC!
**********************************************************************

The Fall 2011 Line-up!

First Friday Films
First Film: Bridesmaids - Friday, September 2nd, Tavern - FREE!

In the University Center's first year hosting free movies in the MGC Tavern, over 500 students have come out to the late night movies as an on-campus option on weekends.  This year, we have shown classic movies such as Ferris Bueller's Day Off, The Never-Ending Story, The Rocky Horror Picture Show, and 10 Things I Hate About You.  Do you have a favorite classic that you'd like to see?  Email us at university_center@american.edu and give us your suggestions!  Co-sponsored by the Student Government and the Residence Hall Association.

Game Night!
In conjunction with the AU Gamers, students come together to play video games like Wii Sports, Rock Band, and Halo 2 or dive-in with a board game like Apples to Apples.  If neither floats your boat, then hop on the giant Twister board and meet new students!

American University Idol
As the karaoke contest of champions, AU Idol brings together the best solo singers at American University together for a one-night competition.  Are you the next AU Idol?

Tuesday Night Trivia in the Tavern
The University Center hosts weekly Trivia Nights during the week to win random prizes, ranging from campus store certificates to co-sponsorship for a future event.

Battle of the Rock Bands
Do you have your own "Rock Band"?  Compete against other students for the title of Rock Band Champions!  No music experience needed.  This is the video game version.

TV Show Premieres!
In collaboration with the Student Union Board, the University Center hosted premiere parties of the new seasons of Heroes, Pushing Daisies, Fringe, and House.  This Spring, crowds of students have packed the house for Lost, 24, and Dollhouse!  Students win prizes during trivia contests and enjoying free food, which usually matches the theme of the show!

American University's Best Dance Crew
Are you in a dance crew on-campus?  Want to compete against other students for the title of AU's Best Dance Crew!  Sign up now!  Email university_center@american.edu for more information!