Battelle Atrium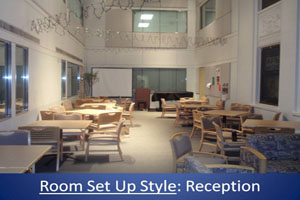 The Battelle Atrium is available for events and programs throughout the year. Please contact the College of Arts and Sciences for scheduling information.
Room Type: Small Meeting Space
Room Dimensions: 46'11" x 16'6"
Ceiling Height:
Sq. Footage: 773
Room Capacity: 100
Floor Type: Carpet
Windows: Along north, west, and east walls
Ethernet Access: Wireless(Available with AU Network ID)
                            Wired (Yes, when ordered through Telecommunications)
Phone Access: Yes (When ordered through Telecommunications)
Whiteboard w/ Markers: No.

Available sets and capacities:
Theatre – N/A
Classroom – N/A
Hollow Square – N/A
U-Shaped – N/A
Banquet Style – N/A
Banquet Style w/ Buffet –N/A
Reception – 40
Circle of Chairs – N/A

Other amenities:
·       Single entrance
·       Eight available outlets
ADA Access: Yes

Intended for: Small meeting space