Burma -- The Leaps in Learning Initiative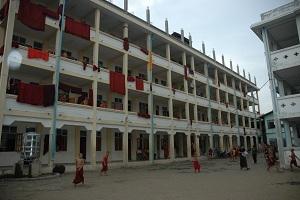 Phaung Daw Oo School in Mandalay, Burma
The famous educator Paulo Freire wrote that "For apart from inquiry, apart from the praxis, individuals cannot be truly human. Knowledge emerges only through invention and re-invention, through the restless, impatient, continuing, hopeful inquiry human beings pursue in the world, with the world, and with each other." This sentiment lies at the root of the Leaps in Learning Initiative, which establishes a mutually beneficial educational dialogue between two very different institutions, American University in Washington, D.C. and Phaung Daw Oo Monastic School in Mandalay, Myanmar.

Phaung Daw Oo (PDO) was established in 1993 by Venerable U Nayaka and Venerable U Jotika to provide a free, quality education to the under-privileged children of Mandalay. The school receives no government support and admits all students who are in need. It is a model of grass roots development and has shown impressive self-reliance and endurance through tumultuous political times. Today it educates 6,000 students a year, focusing primarily on the needs of the poor, the orphaned, and the ethnically displaced. 

American University has a deep commitment to global engagement and public service, and the Leaps in Learning Initiative was conceived so that contact between these two institutions could begin a challenging inquiry into the nature of education and society. Since the first military coup in 1962, Burma has been increasingly removed from world culture and its educational system has greatly deteriorated. The release of Aung San Suu Kyi in 2010 and her election to parliament in 2011 suggest that new leader Thein Sein is willing to open up Burmese society. This opening up, however, demands an educated populace in order to establish political and economic success. After years of stagnation, Burma must leap forward, and American University is in a position to help with this move. Similarly, the students and faculty of Phaung Daw Oo have much to share with American volunteers about the essential nature of education, the managing of scarce resources, and the emotional and spiritual benefits of community involvement.

Phase one of LILI involves sending American University student(s) for one to three months to PDO in order to teach and learn about their school and culture. Our hope is that the AU students will be useful in many ways: providing information about the United States and the developed world; teaching English and other subjects as needed; and helping the school develop its Pre-College Program so that eventually PDO graduates can gain admission to American University. Bringing PDO graduates to study at AU is the second phase of the program, and right now we are still gathering information on what is needed and how long it will take. This, however, makes phase one all that more important, as the American University volunteer's primary role will be to establish an ongoing dialogue with PDO so that we can learn and grow together. 

The American University Teaching Fellow will live at PDO and immerse themselves in the life of the boarding school.
The AU volunteer will collaborate with PDO to:
1. Create the placement test exams for the Pre-College Program students
2. Consolidate curriculum for semesters
3. Develop the course syllabus using existing materials
4. Assist as needed with teaching English courses

The initiative is a collaboration between AU's Student Campaign for Burma, the Literature Department, Kay Spiritual Life Center, Office of Campus Life and the Center for Community Engagement & Service.
  
We are seeking one Teaching Fellow for 2014. Applicants for the Teaching Fellowship must have extensive teaching experience (2+ years) and extensive experience living abroad, preferably in East Asia (2+ years).