Burma -- A State In Transition: Military Rule On The Road To Democracy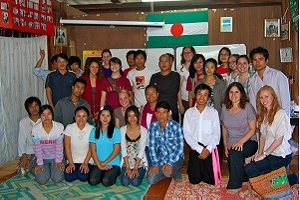 The Trip:

Since independence, Burma has had a tumultuous history of minority group suppression and violence. As a result, Burma recently experienced drastic policy reforms. In response, other countries were quick to engage and invest in the development of Burma's changes. The most significant reforms took place at the end of April. One of the changes included the placement of the NLD on the 2011 bi-election ballot and its ability to enter office and the election of Aung San Suu Kyi, leader of the National League of Democracy (NLD) and the democracy movement in Burma. Other important initiatives include the establishment of the National Human Rights Commission, allowance of labor unions, and decrease in censorship.

The history of Burma and its conflicts contributes directly to the issue of democracy. Since independence, the struggle for power has been constant. Many of the leaders in the democracy movement have grown up in an independent Burma but under authoritative rule. Nevertheless, the Burmese people remain strong-willed and have frequently demanded their right to freedom through non-violent protests.

On this trip, participants will work toward understanding the challenges faced by the Burmese people in this state of transition. Our main goal will be to learn from non-governmental and community-based organizations that work to promote democracy and freedom through grassroots-level empowerment programs.

Since we are unable to travel to Burma, we will instead visit three cities along the Thai-Burma border: Chiang Mai, Mae Sot, and Mae Hong Song—each of which host large Burmese refugee and immigrant populations. Throughout the trip, we will meet with human rights NGOs, youth empowerment groups, democratic organizations, religious leaders, and several other organizations that strive to empower the Burmese people into becoming agents of change. Our trip will also examine how differing ethnic groups are affected by the military rule and current government transition. This will be done by meeting with various ethnic-based CBOs, such as the Pa'o National Development Organization and the Kachin Women's Association of Thailand. The myriad of organizations, groups, and people we will meet will enable us to have an all-encompassing view and understanding of the current situation in Burma.

Finally, our knowledge and understanding of the issues will be reinforced by a hands-on service project and reflection sessions. This trip continues a long history of Burmese democracy activism at American University, including the founding of the US Campaign for Burma by an AU alum.

About our leaders….

Anastacia Darby is a senior International Communications major with Asia as an area of focus, as well as a Business Marketing minor. She is currently the PR and Communications Officer for AU Student Campaign for Burma. She also participated in the 2011-2012 Thai/Burma Border Alternative break and she is very excited to be leading other students to Thailand at the Burma border and looks forward to learning more herself.

Kate Younkin is a sophomore International Relations major in SIS. She is currently Treasurer for the AU Student Campaign for Burma. Kate also played an integral role in organizing a panel discussion this past spring that debated Burma's strides towards democracy. Additionally, she has completed two independent studies exploring issues within Burma. She also participated in the Thai/Burma Border Alternative Break2011-2012.

TENTATIVE ITINERARY

December 26, 2012- January 11, 2013

Friday, Dec 28- Saturday, Dec 29
•  Arrive in Bangkok. Free time to explore Bangkok.
•  Take the overnight bus to Mae Hong Son

Sunday, Dec 30
•  Orientation in Mae Hong Son
•  Free time to explore the town

Monday, Dec 31- Wednesday, Jan 2
•  New Years Eve with Pa'O Womens Organization and Pa-O National Development Organization, located slightly outside of town.
•  Late afternoon arrival in Ban Nai Soi village to meet with Karenni organizations.

Thursday, Jan 3
•  Travel day: Mae Hong Son to Chiang Mai.

Friday, Jan 4
•  Meetings with organizations: Democratic Voice of Burma, EarthRights, Kachin Women's Association of Thailand.

Saturday, Jan 5
•  Chiang Mai -- explore the city (suggested: Doi Sutep temple, huge Saturday night market, cultural day markets).

Sunday, Jan 6
•  Travel day: Bus to Mae Sot.

Monday, January 7
•  Meetings with suggested organizations: Assistance Association for Political Prisoners, Thai-Burma Border Consortium. Afternoon activities and dinner with Ta'aung Student Youth Organization.

Tuesday, January 8
•  Day visit to the students of Shalom Arts and Leadership College (formerly called LMC) at Mae La refugee camp.

Wednesday, January 9
•  Meetings with organizations: Back Pack Health Worker Team and Karen Human Rights Group. Free time to explore Mae Sot/visit with an additional organization.

Thursday, January 10
•  Debrief and post-trip planning.
•  Free time in Mae Sot. Overnight bus to Bangkok.

Friday, January 11
•  Return flight to the US.