About the Center for Community Engagement & Service
An Overview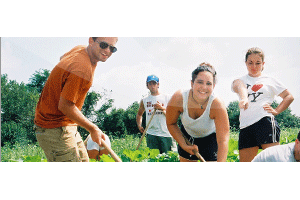 The Center for Community Engagement and Service at American University promotes social justice and civic engagement via community service and community-based research and learning, both locally and globally. Our programs build bridges between the AU community and the diverse communities of the Washington, D.C. metropolitan area. As students, you spend critical years of your lives here and we want to help introduce you to the many facets of our capital city--one that juxtaposes enormous wealth, museums, and monuments with poverty, educational inequities, and inadequate health care.
We believe that service is a means to understanding the socioeconomic context in which we function. Students will learn as much as they give in the process of their involvement, particularly if you think critically about the issues facing communities today. The diverse neighborhoods of this area have tremendous assets, including historic and religious institutions, local businesses, nonprofit organizations, grassroots leaders, and community members with multiple skills. We strive to cultivate ongoing, sustainable partnerships with not-for-profit organizations that are working to achieve concrete, lasting outcomes for their communities, so that they come to view AU as an engaged member of the city and a partner in addressing local concerns.
The Center for Community Engagement and Service provides support, resources, and ongoing opportunities for students, faculty, and staff to become engaged in a range of issues. We advise and support student organizations, clubs, sororities, and fraternities that are engaged in projects and activities with a community focus. Through Alternative Break trips, students can understand issues of social justice in a national and global context.
The Center for Community Engagement and Service is committed to ensuring that the AU community puts "…ideas into action and action into service."
President's Higher Education Community Service Honor Roll

60,000 Hours of Community Service

Vaults AU onto the President's Higher Education Community Service Honor Roll for the Fifth Year in a Row
Check out these service opportunities:
• Service-Learning, courses offered through AU schools and colleges, such as a writing course that addressed school equity issues;

•
D.C. Reads
, an off-campus literacy project aimed at improving the reading level of children in grades K-8;
• Alternative Breaks, including a trip to Chicago focused on working with urban youth

See details at Learn and Serve America