Past Grant Recipients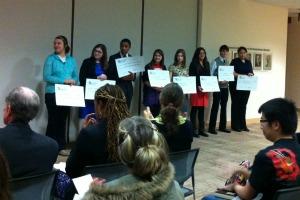 The 2012 recipients of AU's Eagle Endowment Grants.
2011 Freshman Service Experience Grant Recipients
Lands and Waters-$ 500
Pete Olsen
Students will assist in planting flowers and cleaning areas to create new green spaces. The Lands and Waters group has their first service day scheduled for March 9th at Kimball Elementary School.

Street Sense- $500
Rebecca Zisser
Students assisted Street Sense as they moved their physical location, and provided funds to update equipment such as a new laminator and printing machine to make name tags for the Vendors.

2011-2012 Dr. Martin Luther King Jr. Grant Recipients:
Art Works- Awarded $250
Linnea Jordan (SPA Leadership)
This project is designed to address the prevalence of homeless women with mental illness and depression through a five week art therapy program. Linna will be working with a certified art therapist from George Washington University with women who are currently residing at My Sisters's Place in Washington D.C.

College Boot Camp- Awarded $100.00
Dorothy Joseph (SPA Leadership)
College Boot Camp is designed to address some of the challenges veterans face when going back to school after serving in the armed forces. This goal will be reached through a series of workshops designed to address specific academic issues veterans may face.

College Student Poll Worker Training Program- Awarded $365.00
Tyler Sadonis
DC Students Speak is an organization working to get college students more involved un Washington D.C. local government. College Student Poll Worker Training program will train American University students to serve as poll workers on Primary Day in April 2012.

Creating A healthy youth- $160.00
Michelle Pinter-Petrillo and Maria Giordano ( American University Women's Club Soccer)
Creating A healthy yoUth is a program with the goal of forming a lasting relationship between American University Club Sports and the Tenleytown community to promote physical activity to children. The program will foster a physically active mentorship program in hopes of decreasing the incidence of childhood obesity due to sedentary lifestyles.

DC Students VOTE! Voter Registration Drive- Awarded $75.00
Michael Panek (SPA Leadership)
DC Students VOTE! Is a voter registration drive aimed at registering college students to vote in Washington DC elections. The registration drive will take place at American University .This program will encourage students to have a say in DC government, and ensure that politicians will pay more attention to students interest in the policy making process.

Kids on Campus Day- Awarded $500.00
Andrea Duarte (DC Reads)
A kid on Campus Day is a program sponsored by D.C. reads program annually. This event will help promote literacy and awareness of higher education through workshops for participating youth and showing the kids around a college campus.

Manifest Leadership Institute – Awarded $850.00
Deon Jones
This program is a 10 week leadership institute for former male juvenile delinquents currently residing at New Horizons transitional facility. The goal of this institute is to teach this group of young men how to become leaders in their community regardless of their past through mentoring, and workshops.

Reading Leaders-Awarded $75.00
 Lucy Bertocci (SPA Leadership)
Reading Leaders is a program designed to teach middle school students the basic skills necessary to read to small children. The goal of this program is to promote literacy, and encourage students to read to their younger family members.

Peace in Paint and Practice- Awarded $250.00
Sarah Palazzolo ( Alt Break to South Africa)
This alternative break team plans to partner with City Gate and to educate youth about Dr. Martin Luther King's use to non violent conflict resolution tactic. The group plans to accomplish this through art, creating a large mural that can be displayed at a City Gate facility.