Celebrate Alternative Breaks at American University: 15 Years in the Making!
September 27, 2013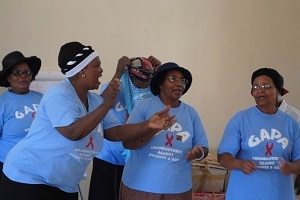 Grandmothers Against Poverty and AIDS in Cape Town, South Africa
American University is celebrating 15 years of Alternative Breaks with an art exhibit and reception in Washington, D.C. and we would love for all Alternative Breakers past and present to join us!
The program will commence on Friday, September 27 at 8:00 p.m. at the Katzen Arts Center Atrium. Join fellow Alternative Breakers for a photography exhibit of "The Never Give-Ups" followed by a celebratory reception and awards ceremony for social justice activist alumni.
Friday Evening Celebration and Photography Exhibition:
"The Never Give-Ups" photo exhibition features an extraordinary group of grandmothers from Cape Town, South Africa. It examines how they cope with the consequences of the AIDS pandemic by caring for their own ill and dying children and becoming parents to their orphaned grandchildren. These extraordinary women have formed a support and activist group called the Grandmothers Against Poverty and Aids (GAPA). South African photojournalist Eric Miller has captured the struggle and spirit of 17 grandmothers in intimate portraits of them and their families. The photographs are combined with excerpts from the grandmothers' life stories, documented by award-winning South African journalist Jo-Anne Smetherham. What's more, you can hear some of these stories live, as several of the grandmothers will be joining the exhibit from Cape Town for this special event. More information about "The Never Give-Ups" can be found on their website.
Food and drink will be locally sourced, vegetarian options will be plentiful and the celebration will be alcohol free in the spirit of Alternative Breaks.
"Mini Alternative Break" in DC for alumni on social justice issues: CANCELLED

Alternative Breaks bring AU to the world and the world to AU. Don't miss out on this rare opportunity to celebrate 15 remarkable years of Alternative Breaks while reconnecting with old friends and meeting fellow Alternative Breakers.
Kindly register by September 20, 2013.
Registration fees:
$10 per person for the reception on Friday, September 27 (free for current students with AU ID -- email altbreak@american.edu to get on the guest list).
All fees go towards covering the costs of the event. Any remaining funds will be donated to the Alternative Break Travel Grant for students with financial need.
Contact Shoshanna Sumka or Gretchen Mielke with any questions.