Post Revolution Race and Identity in Cuba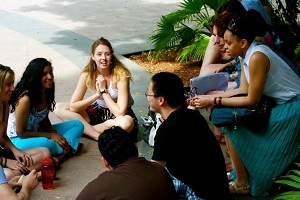 The Trip
The week we spend in Havana will serve as a case study for how individuals understand and construct their racial identities based on their skin color, lineage, education, and economic means in accordance with pre-existing and dynamic power structures. The Cuban census is based on self-identification, and shows that about 65% of the Cuban population identifies as white while about 10% of the population identifies as black. Despite these statistics, demographers estimate that the actual percentage of Cubans with African ancestry consists of more than fifty percent of the population. This discrepancy calls into question the way "race," which is a social construct rather than a biological reality, has been used to categorize peoples. How did this flawed system of classification come about, and why? How do we as individuals navigate our own racial identities, and how does that affect our interactions with other people? These are the types of questions we plan to investigate as we remove ourselves from our own cultural context and become observers in another.

Social Justice Issue

After the revolution of 1959, Fidel Castro's revolutionary government made efforts to abolish institutional racism, opening up employment, land ownership, housing, education, and health services to all citizens regardless of skin color, religion, or class. Racist sentiments, however, persisted within the national psyche, and a number of unofficial institutions kept in place a racist ideological infrastructure. Most remittances from abroad come from exiled elites, whose inheritances and class statuses were obtained by slave owners, and end up in the hands of their white relatives. Furthermore, studies have shown that minority groups are still largely underrepresented in government jobs, and urban housing arrangements for black Cubans tend to be in poorer condition than their white counterparts. Additionally, most black Cubans are excluded from working in the emerging private sector and tourism, which offer the opportunity to earn the much-coveted convertible currency, which is based on the U.S. Dollar.

Working in the DC Community
Participants will work with Empower D.C., a "citywide membership-based organization... dedicated to effecting social change through a democratic, self-help empowerment approach to community organizing" on either the People's Property or the Affordable Housing campaign. Empower D.C. does much of its work in low-income parts of D.C. where many minority populations live. Since the Cuban government does not allow service in Cuba 20 hours of service work for this trip will be done before and after the trip in Washington, DC.

About the Student Leaders:

Cullen Moran is a sophomore in the School of International Service and is working on a minor in Statistics. After graduating high school, he spent a year traveling, volunteering, and interning in Central America. He was a participant in the 2013 Alternative Break to Cuba.

Queen Nwafor is a junior in the School of Public Affairs majoring in CLEG. Her interests lie in education, law, and the development of underprivileged and disadvantaged communities, people and nations. Queen was also a participant in the 2013 Alternative Spring Break trip to Cuba.


Tentative Itinerary (subject to change):
Day 1
Depart D.C. for Miami

Day 2

Charter flight from Miami to Havana
Visit to the Museum of the Revolution, which displays documents and artifacts, weapons and planes from the revolution. The museum is housed in the former Presidential Palace which was the home to Cuba's leaders from the 1920s until 1959.
Check-in at Hotel, conveniently located just blocks from the Havana seawall, the promenade and the center of the Old Town
Welcome Dinner at El Aljibe, a state-run restaurant famous for its black beans, baked chicken and large family style portions.
Group Reflection

Day 3

Breakfast discussion with editor at La Casa de Las Americas, regarding race relations in Cuba
Visit Callejón de Hamel, a neighborhood that has been converted into a cultural center rich in Afro-Cuba religion, art and dance. A scholar will provide an overview of Santeria and other Cuban religions with African routes. We will visit the home of a Babalao, (Yoruba Priestess) who will receive the group and explain the religious deities in her home.
Take a small boat along the Bay of Havana to the working class town of Regla to attend a peña, a cultural gathering with hip hop music, poetry and dance, led by the rap group Obsesión. Event to be preceded and followed by a discussion on race in Cuba and tour of the neighborhood.

Day 4

Visit to La Escuela Latinoamericana de Medicina (ELAM), a major international medical school and an integral part of the Cuban healthcare system.
Visit a neighborhood health clinic to learn about the health care system. We will receive a tour of a typical neighborhood health clinic and have the chance to ask questions of doctors, nurses and patients
Visit to La Casa de África. Located within the historic city, the museum hosts a variety of Afro- Cuban artifacts and art that provide a direct representation of the Afro Cuban influence in its history.
Discussion with "Choco," one of Cuba's most prestigious Afro- Cuban painters, whose art focuses on important social issues.

Day 5

Visit to Centro Memorial Martin Luther King, Jr. (CMMLK), a memorial developed in 1987, by a US delegation, to provide training and education in Dr. Martin Luther King, Jr.'s philosophy of nonviolence for Cuban religious and community leadership.
Visit the National Center for Sex Education (CENESEX), directed by Mariela Castro Espín. We will learn about HIV/AIDS prevention programs, as well as initiatives to increase equality for LGBT community members.
Visit to the Poder Popular, the National Assembly of People's Power, the legislative department of Cuba. We will receive a briefing about the political system and have the opportunity to interact with young assembly members.
Visit to the University of Havana, the country's oldest and most prestigious university.

Day 6

Visit to the United States Interests Section (USINT), which represents U.S. interests in Cuba. The head of the mission will speak to us about the functionary role of the USINT, current events in Cuba, U.S. policy toward Cuba and bilateral relations.
Visit to the Namibian Embassy for a discussion with the Ambassador about Namibia's relationship with Cuba, current events and race and gender issues.
Driving tour of Havana, including a visit the Plaza de Revolution (Revolutionary Square), where Cubans gather for political acts and to pay homage to the country's leaders, the mansions of Miramar, and the fortresses across the bay of Havana.

Day 7

Travel outside Havana to Matanzas, referred to as "the Athens of Cuba." Between 1817 and 1827, after the introduction of large sugar mills, the region flourished and attracted a large number of artists, writers, musicians and intellectuals.
Explore the historic quarter and visit Ediciones Vigia, which was founded by a group of women in 1985 and produces hand-made first edition books on a range of topics
Visit the Pharmacy Museum, housed in a former pharmacy that was founded in 1882.
Visit the Matanzas Seminary and enjoy a performance in the chapel by the internationally renowned Matanzas Chamber Choir
Check-in at Hotel in Varadero

Day 8

Visit the Museum and Castle of San Severino
Discussion with members of the local chapter of UNEAC, the national artists and writers union, regarding race relations in Cuba
Return to Havana and Check-in at Hotel
Watch the Industriales, the "Yankees of Cuba," play at the famous El Latino stadium in Havana

Day 9

Discussion with the former director of the Center for the Studies of the United States, regarding U.S. – Cuba relations and race and gender in Cuba
Visit to Organoponico Vivero Farming Cooperative in Alamar (UBPC), a housing project of Soviet-style apartment blocks on the outskirts of Havana.
Visit to the Asociación Cultural Yoruba de Cuba for a discussion on Afro-Cuban religions
Farewell party in Regla with musicians, artists and community members

Day 10

Final reflection and planning for post-trip activism
Depart Havana, Cuba to Miami, Florida
Fly from Miami to D.C.