Many Hands Make the Load Lighter: Microfinance, Healthcare, and Women as Agents of Development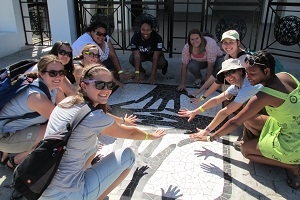 The trip
This trip will focus on the roles women can play in the redevelopment process in Haiti, specifically post-earthquake. We will focus on women as agents of development within their own communities, along with some of the outlets that empower them to do so, like microcredit and healthcare services. In addition, participants will explore the challenges Haitian women face from a sociological perspective.

Because the January 2010 earthquake was so devastating to the existing infrastructure of Haiti, the road to redevelopment has been long and complicated. Thousands of NGOs rushed to the country after the 7.0 magnitude earthquake struck, but for many Haitians, things have not yet returned to normal in the past three and a half years. This trip will pose the question: how does active women's involvement in the development process benefit everyone as a whole?

This trip will further explore women not only as agents of sustainable community development, but as empowered individuals. In partnering with the Association of Peasants of Fondwa, Fonkoze (a women's microfinance group), N'a Sonje, and Grace Children's Hospital, participants will observe how organizations are already working to incorporate women in the development process, and how these efforts have been successful.

American University is one of the founding members of the national Haiti Compact, an organization composed of universities dedicated to remaining involved in the rebuilding process and maintaining relationships with community partners in Haiti until at least 2014. This will be AU's fourth trip to Haiti with students. The Haiti Compact also works to raise awareness about issues in contemporary Haiti and fundraise for grassroots organizations on college campuses across the United States.

About the Student Trip Leaders

Sarah Palazzolo is a junior in the School of International Service, with a concentration in environmental sustainability & global health. She has been a participant and a co-leader on the Alternative Winter Break trip to South Africa focusing on gender equality, youth empowerment, and HIV/AIDS, and is excited to be joining the Haiti Compact for the first time this spring!

Kelly Mertz is a senior in the School of International Service, focusing on International Development. She was a participant on the 2013 Haiti Compact Alternative Break, the theme of which was "Women and Youth Empowerment." She can't wait to return to Haiti and continue American University's relationship with our community partners!

Sample Itinerary (subject to change):

Day 1 Arrive in Port-au-Prince.
Travel to N'a Sonje foundation
Haiti orientation activities, history lesson with N'a Sonje. In the quiet mountains surrounding Port-au-Prince, students will learn the Haitian context of healthcare and women's issues, as well as getting a brief lesson on Haitian history as a whole.

Day 2 Travel to Fondwa.
Meet with APF Women's group. Students will learn firsthand about Haitian women's groups, how grassroots organizations come to fruition, obstacles Haitian women face pertaining to finance and healthcare.

Day 3
Fondwa
Meet with students of UNIF, the first rural Haitian university to discuss their experiences with agriculture and business - this will include both male and female students.
Visit APF center to see school, orphanage, and clinic grounds.

Day 4 Travel to Mirebalais from Fondwa.
Meet with Fonkoze representatives, learn about the organization as a whole. Participants will learn about different types of violence against women, including economic violence, psychological violence, physical violence and sexual violence. Through economic empowerment, women are able to overcome some of the abuses they face.

Day 5
Spend the day visiting Fonkoze clients of different microfinance levels. We will meet women who are experiencing extreme poverty who are in the CLM program, as well as women who are in the Ti Credi or micro-credit group, thereby seeing the progression of economic empowerment.

Day 6
Travel from Mirebalais to Port-au-Prince.
Service learning project at Grace Children's Hospital in Port-au-Prince.

Day 7
Day of reflection and post-trip activism planning at N'a Sonje. Connect with Haitian university students, roast coffee by hand and learn about the religious practices of vodun, the traditional Haitian religion.

Day 8
Morning tour of Port-au-Prince; including the resistance statue of Neg Mwaon, the grounds of the governmental palace, the market areas and the long winding, narrow streets.
Depart Port-au-Prince – Arrive Washington, DC