The Role of Grassroots Development in Bridging the Gap between Health Disparities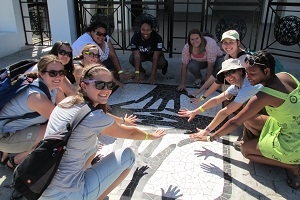 The Program
Haiti's path to development is one that has been long and complicated, due to external and internal factors. Outside influences, such as the French and American governments and numerous NGOs, have quelled the voice of the Haitian individual(s) and propped up the Haitian government for years on end. By partnering with (the) Association of Peasants of Fondwa, Fonkoze (a women's microfinance group), and Partners in Health, participants will observe how organizations are working with local communities towards the development of a sustainable public health system. We will be working with four different organizations that focus on health, education, and economic stability for the most marginalized citizens in order to create sustainable public health infrastructure;upon return to the district, we work with local community partners to provide support and assist with programming.

About the Student Leaders
 
Jen Thelus is a junior majoring in Public Health as a pre-med student. She has been a participant on the 2014 Haiti Compact Alternative Spring Break Program, which focused on "Microfinance, Healthcare, and Women as Agents of Development." Last year she co-led the program focusing on public health systems in a developing country. She can't wait to return to Haiti and continue American University's relationship with the community partners! 
Karmen Brooks is a Masters Candidate in the School of International Service. Her degree will be in Global Environmental Policy with a focus in Global Health. She has completed research abroad, including in Brazil, examining health issues prevalent in developing nations related to environmental degradation. In the future, Karmen envisions herself traveling the world as an advocate for social and environmental justice in order to promote an equitable quality of life for all global citizens.

Tentative Itinerary (subject to change)

Day 1 Arrive in Port-au-Prince.
Travel to N'a Sonje foundation
Haiti orientation activities, history lesson with N'a Sonje. In the quiet mountains surrounding Port-au-Prince, students will learn the Haitian context of healthcare and women's issues, as well as getting a brief lesson on Haitian history as a whole.

Day 2 Travel to Fondwa.
Meet with APF Women's group. Students will learn firsthand about Haitian women's groups, how grassroots organizations come to fruition, obstacles Haitian women face pertaining to finance and healthcare.

Day 3
Fondwa
Meet with students of UNIF, the first rural Haitian university to discuss their experiences with agriculture and business - this will include both male and female students.
Visit APF center to see school, orphanage, and clinic grounds.

Day 4 Travel to Mirebalais from Fondwa.
Meet with Fonkoze representatives, learn about the organization as a whole. Participants will learn about different types of violence against women, including economic violence, psychological violence, physical violence and sexual violence. Through economic empowerment, women are able to overcome some of the abuses they face.

Day 5
Spend the day visiting Fonkoze clients of different microfinance levels. We will meet women who are experiencing extreme poverty who are in the CLM program, as well as women who are in the Ti Credi or micro-credit group, thereby seeing the progression of economic empowerment.

Day 6
Travel from Mirebalais to Port-au-Prince.
Service learning project at Grace Children's Hospital in Port-au-Prince.

Day 7
Day of reflection and post-trip activism planning at N'a Sonje. Connect with Haitian university students, roast coffee by hand and learn about the religious practices of vodun, the traditional Haitian religion.

Day 8
Morning tour of Port-au-Prince; including the resistance statue of Neg Mwaon, the grounds of the governmental palace, the market areas and the long winding, narrow streets.
Depart Port-au-Prince – Arrive Washington, DC