Dalit & Women's Rights  in Tamil Nadu, India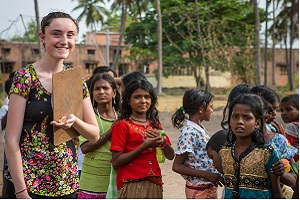 The Trip

Alternative Break to Tamil Nadu will focus on ways to empower Dalits and Women in India. All native Indians are born into the hierarchical caste system that originated in Hinduism. Dalits are the lowest in this hierarchy and actually do not fall into one of the five main castes. They are considered "untouchable" and historically deprived of the opportunities offered to those in the five main castes. In an attempt to escape the caste system, some Dalits converted from Hinduism to Christianity. However, changing their religion did not change their social standing.

Since the caste system is rooted so deeply into the beliefs of Indian society, it has expanded beyond Hinduism and has determined the rigid social structure in India. Women in India are also discriminated against in a strongly patriarchal society that expects them to devote their lives to their husbands. Violence against women is prevalent in India especially in domestic relationships.

India is in a period of rapid economic growth and is of growing importance as a world political player. Over the last decade, the United States and India have built a stronger relationship both economically as well as politically. Therefore, caste and gender discrimination can be a topic of future discussions between the two countries.

The legal system is often reluctant to enforce the legal rights of a Dalit. The women's rights movement is in its infancy in major Indian cities and has not reached the villages.

Our trip will afford students insight into the programs being offered at the village level in Villupuram district. We will visit NGOs that provide economic opportunities for Dalits and Women through Self-Help Group organizing. Self-Help Groups serve to pool resources of a village into entrepreneurship. We will visit educational institutions that serve Dalit communities that historically receive very little formal education.

For a major portion of the trip, we will work as counselors at a residential summer camp that brings Dalit boys and girls together for skill improvement as well as confidence building activities. AU students will be partnering with Communities Rising, a 501c(3) charitable organization that supports and promotes village-based education in rural India. Communities Rising partners with many local NGOs to accomplish its objectives, but its primary partner is SAMSSS, a social services society that focuses its efforts on women and children, education and disaster relief.

Alternative Break Tamil Nadu 2013 will be running for the third year and will continue to build on the relationships we started in December 2007. Both of our partners were glad to host a return trip after their previous collaboration with AU.

About the student leaders…

Kelly Reilly became involved as one of the student leaders after participating on the 2012 Alternative Break Tamil Nadu 2012. She was moved by the work Communities Rising does in India and wants to share that experience with another group of students.

Tentative Itinerary:

Students will arrive in Chennai to travel south to the village of Vikravandi. Communities Rising will provide accommodations including food, lodging, and transportation. Participants will engage in panel discussions with NGO's that work on women's issues and Dalit rights as well as educational institution visits surrounding villages within Tamil Nadu. A day of cultural exploration will include a visit to the town of Pondicherry.

During the second week of the trip, our service component will be working as camp counselors, along with Indian counterparts, running sessions such as photography, drama, swimming, sports, and arts and crafts with Dalit youth.