Education and Dalit Rights in Tamil Nadu, India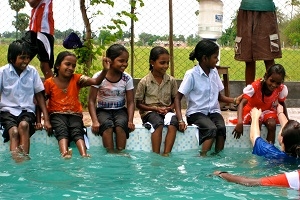 The Trip
The Alternative Break to Tamil Nadu will focus on ways to empower Dalit children with a focus on education rights. Contextually speaking, all Indians are born into the hierarchical caste system that originated in Hinduism. Dalits are the lowest in this hierarchy and actually do not fall into any of the four main castes. Instead, they are considered "untouchable" and have thus been historically deprived of the opportunities offered to those in the caste system. As a result, the legal system in India is often reluctant to enforce the legal rights of Dalits. In an attempt to escape the caste system, some Dalits converted from Hinduism to Christianity. However, changing their religion did not change their social standing.
Since the caste system is rooted so deeply in the beliefs of Indian society, it has expanded beyond Hinduism and has determined the rigid social structure in India.
Currently, India is in a period of rapid economic growth and is of increasing political importance as an international player. Additionally, the United States and India have built a stronger relationship both economically as well as politically over the last decade, meaning that caste discrimination can be a topic of future discussions between the two countries.
Our trip will afford students insight into the programs being offered at the village level in the Villupuram district, beginning with a visit to an NGO whose purpose it is to serve several Dalit communities that have historically received very little formal education. We will also have the chance to attend forums and engage in conversation with activists who are passionate about Dalit educational rights and opportunities.
For a major portion of the trip, we will also work as counselors at a residential summer camp that brings Dalit boys and girls together for empowering and confidence-boosting activities and experiences. AU students will be partnering with Communities Rising, a US-based organization that supports and promotes village-based education in rural India. Communities Rising partners with many local Indian NGOs to accomplish its objectives, but its primary partner is SAMSSS, a social services society that focuses its efforts on education, women and children, and disaster relief.
Alternative Break Tamil Nadu 2014 will be running for the fourth year and will continue to build on the relationships we started in December 2007. Both of our partners were glad to host a return trip after their previous collaboration with AU.
About the Student Leaders
Tentative Itinerary (subject to change)
Students will arrive in Chennai to travel south to the village of Vikravandi. Communities Rising will provide accommodations including food, lodging, and transportation. Participants will engage in panel discussions with NGO's that work on education issues and Dalit rights as well as educational institution visits surrounding villages within Tamil Nadu. A day of cultural exploration will include a visit to the town of Pondicherry.
Each night will include a reflection exercise that will synthesize academic learning and personal experiences of the day.
During the second week of the trip, our service component will be working as camp counselors, along with Indian counterparts, running sessions such as photography, drama, swimming, sports, and arts and crafts with Dalit youth.
Delicious (and spicy) Indian food will be prepared by local cooks each day.
Day 1: Arrival and Orientation - Arrive in Chennai. Travel to hotel in Vikravandy, Tamil Nadu. Select rooms and rest. Travel to SAMSSS and receive orientation to location, etc.
Day 2: Spend morning at SAMSSS. Afternoon/night in Pondicherry.
Day 3: Travel to local school, meet with staff.
Day 4: Meet with local grassroots organizations.
Day 5: SAMSSS- preparation for camp.
Day 6: Working at Camp: photography, drama, swimming, sports, and arts and crafts
Day 7: Working at Camp: photography, drama, swimming, sports, and arts and crafts
Day 8: Working at Camp: photography, drama, swimming, sports, and arts and crafts
Day 9: Working at Camp: photography, drama, swimming, sports, and arts and crafts
Day 10: Last day of Camp: final celebration and family day
Day 11: Return to SAMSSS to clean up/spend time with Indian counselors.
Day 12: Day trip to Mahabalipuram, cultural site.
Day 13: Take care of any last minute travel needs. Pack. Morning meeting with activists. Final reflection and action planning to continue engagement upon return home.
Day 14: Travel back to the United States