The Intersections of Urbanization: Effects on Nairobi's Transportation and Public Health System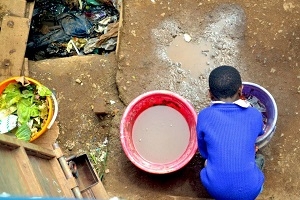 This Alternative Break will offer students the opportunity to learn about the marginalization of urban dwellers caused by development and "modernization". This trip will expose students to a cross-sector analysis of transportation and health and their non-linear relationships to urbanization. Through visiting local organizations and government ministries, this trip will expose the students to the elements of local control and coping with the complex challenges of urbanization from the perspectives of both local NGOs and government perspectives.
Despite the realities of rapid urbanization in Nairobi, government policy makers have continued to underfund many public service sectors and ignore infrastructure gaps—leaving thousands in desperate poverty. This Alternative Break will specifically assess the conditions of health and transportation in Nairobi through a social justice lens. Issues regarding rapid and uneven urbanization lead to complex and very intricate issues. Paradoxes of environmentalism, addresses the economic "foot on the gas pedal" of urban development that aids the global rich creating a larger gap on the socioeconomic spectrum. Essentially when structural and systematic institutions are at the center of the problem, issues of empowerment, community actions, local urban development, and participation come into the forefront.
Throughout this trip, students will be meeting with various local organizations positioned in different regions of Nairobi. These organizations' missions will vary from urban planning and sustainability, transportation and infrastructure, and health and sanitation. The purpose of these meetings is to identify sustainable solutions to prevent further marginalization of the poor caused by urbanization. Students will also engage in a community service project with one of our main health partners, Lea Toto. By the end of the trip, we hope that students will be able to meaningfully reflect upon their role in the social justice issue. A goal of this trip is for the participants to realize that we are all interconnected through globalization and see how their actions affects the marginalization of the poor in Nairobi and Washington D.C.  
About the Student Trip Leaders
Cody Ragonese is a senior majoring in International Development and Public Health. He spent a semester studying abroad in Nairobi, where he worked for a local health organization, Lea Toto. He is passionate about the disadvantaged and vulnerable population's access to health care and finding sustainable solutions to improve living conditions of urban poor.
Andre Sanchez-Montoya, a holistic thinker and a daily optimist, is a senior majoring in International Development with a minor in Public Communication. He is passionate about avenues that blend issues work and strategic communications, specifically in regards to urban design and planning.
Tentative Itinerary (Subject to Change):
Bird's Eye View of Nairobi from the KICC building
Visit Lea Toto in Kangemi
Meet with the Kenya Medical Research Institute
Visit the Kenyatta National Hospital and talk with hospital administrators
Interactive lecture at University of Nairobi Department of Public Health
Enjoy Nairobi's (alcohol free) New Years' celebrations
Meet with the Matatu and bus drivers' union
Visit the old and new Nairobi rail stations and meet with Kenya Railways
Interactive lecture at University of Nairobi Department of Transportation
Policy meeting at the Kenya Institute for Public Policy and Analysis
"Creating Green Spaces" Community Service Project at Lea Toto
"Creating Green Spaces" Community Service Project at Lea Toto
Safari at Nairobi National Park
Explore the city of Nairobi
Meet with the Ministries of Health, Transport and Urban Planning
Final Reflection and Debrief for post-trip action planning