Summer Community Based Learning & Service Program in Chiapas, Mexico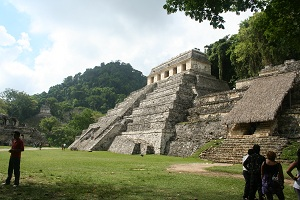 Palenque Mayan Ruins
Summer Program:
In partnership with the Universidad Iberoamericana (UI), American University (AU) students are able to immerse themselves in Mexican culture and social issues by teaming up with Mexican university students to be placed at various community based organizations in Chiapas. 
AU students will live independently in apartments with UI students. During the day students will work 7 hours a day with various human rights, indigenous groups, or fair trade business organizations listed below. A faculty member from UI will be in the field at all times to guide the students through this experience via reflection meetings, advising (both personal and academic) and serving as a cultural liaison with the organizations and Mexican students. Students will be supervised daily by their project coordinator at the volunteer site.
 
Upon arrival in Mexico City, students will partake in a three-day orientation/introductory course, facilitated by UI (in Spanish) covering Mexican history, geography, cultural norms and social/political issues of the region.

Credits:
Independent study credits are optional (and have an additional cost). They should be worked out individually with a professor identified by the student.
 
Requirements for participation:
•  Fully enrolled American University student
•  Speak a high level of Spanish (proficient)
•  Interest in social issues in Mexico (human rights, indigenous groups, fair trade business)
• Posses skills that match needs at the organizations
•  Ability to work and live with a multi-ethnic team with students from different countries
•  Be open and respectful to cultural differences
•  Be in good health and physical condition
• Independent and maturity level to live in rural Mexico for 8 weeks

Estimated costs of program (all costs are to be paid directly by the student upon arrival in Mexico):
o  Airfare to Mexico City (aprox. $600)
o  Housing (aprox. $200)
o  Transportation ($100)
o  Food ($1200)
o  Orientation in Mexico City- 3 days ($165)
o  Application/Administrative Fee ($180)
o  Total estimated cost to student= $2,445

Site placements in Chiapas:
CELALI- Centro Estatal de Lengua, Arte y Literatura Indigena San Cristobal de las Casas. (State Center of Language, Art and Indigenous Literature). Research, promotion and development of indigenous cultures of Chiapas.
RICCA- Red de Intercambio y Comercio Alternativo (Network of Exchange and Alternative Business, culturally-based sustainable development) San Cristobal de las Casas
Centro de Derechos Humans Fray Matias de Cordova (Human Rights Center "Brother Matias Cordova) Tapachula (west coast)
Graduate Coordinator Accompanying Students:
One graduate student coordinator from AU will travel with students to place them at their site and help them get settled in. The coordinator will live with the students during the program. Their role is to accompany and advise the students in their work with the social service agencies. 

Orientation Course:
For the first three days that students arrive in Mexico, they will stay in Mexico City for an orientation course prior to their placement at the field sites.
Topics to be covered in the Orientation:
1.  Mexican History & Geography: Students will learn about the origins of community service in Mexico. They will learn about the current political situation of the country as well as the specific regions where they will be working.  
2.  Presentations about the organizations & projects they will be working with.
3.  Psychological Challenges: talk about culture shock and coping strategies.
4.  Interculturality and Indigenous Issues
5.  Human Rights
6.  Immigration
7.  Administrative components
8.  Group building

Project Work at Site:
Students are responsible for arranging transportation (bus or air) to their sites. Each project will have four students working as a team: two foreign exchange students and two Mexican students. The students will work on the projects according to the schedule worked out by the organization. Students will then have to report back on their progress to their project coordinators and write a weekly reflection essay.

Assessment:
The graduate coordinator on site will follow the students' progress and accompany them during the field work projects. Students will write mandatory, weekly, reflection essays.

Evaluation:
At the end of the field work experience there will be a site evaluation with the students, the project coordinators and the professors.

At the end of the program students will receive recognition from the Universidad Iberoamericana for their participation in the Summer Community-Based Learning Program in Mexico.