Rwanda: Healing and Development after Genocide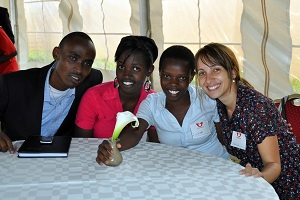 The Trip
The story of Rwanda is one of immense pain & tragedy, but above all, it is a story about resilience. After the 100-day genocide of 1994 in which one million Rwandans were murdered, the people of Rwanda found themselves faced with immense challenges. How do we rebuild our communities? How can we help our survivors heal? What is to be done with the perpetrators? Can they ever be forgiven? How do you address the youth who survived the genocide and the one's who were born after? By engaging with members of the Rwandan community, we will attempt to address these questions, while taking action to support them in their empowerment.

During this trip, students will engage with genocide survivors, perpetrators, community leaders, widows and orphans on issues of development, reconciliation, trauma rehabilitation, youth empowerment and sustainable peace building. We hope to explore different narratives, ask questions to explore the possibilities, and think critically of the challenges ahead. Ultimately we will be forming and strengthening relationships with us and the Rwandan people.

In following the Rwandan people on their path to justice and healing, we can begin to uncover answers about why the genocide happened and, most importantly, how we can ensure atrocities like these never happen again. Furthermore, Rwanda holds many lessons for us as peacemakers & ambassadors of social justice. It holds lessons about how conflict may destroy communities, but never the people's capacity to rehabilitate, recover, develop, and build sustainable peace for the future. But perhaps the greatest lesson of all that can be drawn from the story of Rwanda is that, out of great suffering & tragedy, great hope can always be found.

We are looking for a group of dedicated & enthusiastic students who are actively involved in social justice and are passionate about service work.

This trip will be particularly interesting for students concerned with issues of genocide, international development, peace & conflict resolution, post-conflict rehabilitation and are willing to form a long-term commitment to the Rwandan people.

Service & Community Engagement during the trip:

•  Develop meaningful relationships with survivors of the genocide
•  Participate in income-generating activities for widowed women & rape survivors
•  Visits to youth villages & service projects with orphaned youth
•  Witness trauma rehabilitation & reconciliation programs
•  Visit local prisons & engage in dialogue with reformed genocide perpetrators
•  Meetings & discussions with community leaders, justice officials, women activists and more

About The Leaders…
Marcy Van is a sophomore in the School of International Service, focusing on peace and conflict resolutions in Africa. Her passion for human rights and atrocity prevention began in high school after her involvement with Amnesty International and is currently the President of the genocide prevention student organization STAND. She participated in the 2012 Alternative Break to Rwanda and is very excited to lead in Rwanda and looks forward to learning more herself.

Mike Brand is a first years Master's student in the School of International Service pursuing a degree in International Peace and Conflict Resolution. Mike's background is in human rights education, atrocities prevention, advocacy, and organizing. He has spent over a year in Rwanda and this will be his fourth trip back. Mike graduated from the University of Connecticut in 2007 with BA's in History and Political Science with a concentration in Human Rights. Since graduating he has worked for various NGOs and nonprofits in the States as well as in Rwanda.
Tentative Itinerary
Day 1
Depart for Kigali

Day 2
Arrive in Kigali
Trip Introduction

Day 3
Orientation to Kigali
Visit National Museum of Rwanda
Meet with Rwanda Partners
Settle into guesthouse

Day 4
Kigali Genocide Memorial Centre
Rwanda Partners
Meet with Rwanda Basket Company
Meet with women basket-weavers
Visit on-site farms & plantations

Day 5
Service Projects: building homes for widows, basket-weaving, reconciliation workshop training, farming, film projects, etc.
Forgiveness & reconciliation workshop
Bugesera village/market
Day 6
Service Projects
Forgiveness & Reconciliation workshop

Day 7
Service Projects
Forgiveness & Reconciliation workshop

Day 8
Service Projects
Nyamata Genocide Memorial
Day 9
Service Projects
Search for Common Ground
Observe the Youth Participatory Theatre for Conflict Transformation
Day 10
King's Palace (Nyanza)  
Lunch in Nyanza
Explore Butare
Day 11
Nyungwe National Park
Nature hike at National Park
Sightseeing
Day 12
Service Projects
Site Visit to Hotel des Milles Colines
Lake Kivu
Group Reflection at Lake

Day 13
Service Projects
Nyabiheke Refugee Camp
Meet with Congolese Refugees

Day 14
Huye region of Kigali
Exploration Huye
Karubanda Prison
Dialogue with from reformed prisoners
Day 15
Service Projects  
National Service of Gacaca Jurisdiction
Observe gacaca session or trial

Day 16
Service Projects
Kigali City Council
Meet with City Council Representative
Day 17
National Park visit & hike

Day 18
National Unity & Reconciliation Commission
Meet with Peacebuilding & Conflict Management Program Representative
Observe Ingando - community peace center
Observe Itorero - leadership training
Attend student reconciliation club meeting
Meet & discuss with Abunzi - mediation committee

Day 19
Service Projects
Never Again Rwanda
Participate in Peace Facilitators Project Training

Day 20
Last day of service projects
Post-trip activism planning
Day 21
Last Day
Service Projects Presentation
Free time in Bugesera village
Dinner & goodbyes
Final group reflection
Day 22
Depart for Kigali Airport
Home