Summer Community Based Learning & Service:  Cape Town, South Africa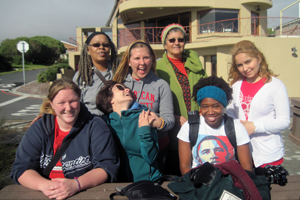 During this seven-week trip, participants will share in opportunities to contribute to social development projects in Cape Town as they study race, ethnicity, class and gender structures in South Africa.
Students will learn about social issues by being placed at one local organization and by working alongside South African counterparts who are leaders in their communities.  Additionally, students will experience the diversity of social life, culture and customs in the Western Cape through language, music, art, dance, food, marketplaces and historical and cultural sites.
Read an "Eye Opening Journey" about AU's program in South Africa.

Social Issues
The impact of race, ethnicity, class and gender equity on health programs, policies and practices, particularly the obstacles and advantages of efforts to eradicate HIV.
The role of women in the struggle to eliminate legally and culturally enacted patterns of race, ethnic, class and gender discrimination and economic inequities.

Program Partner Organizations in Cape Town
On Site Program Coordination: Volunteer Adventure Corps arranges housing, transportation, local guides, food and cultural excursions in and around Cape Town.

University Partners: Univ. of Cape Town, Univ. of Western Cape, Univ. of Stellenbosch
Health and Life Course Quality: Grandmothers Against Poverty & AIDS (GAPA), Grassroots Soccer, Cape Town Refugee Centre, Visiting Women's Shelters and Sibongile Day and Night Care Centre

Economic Development: Anna Richerby/Beloved Beadwork, Margaret Woermann/Heartworks, Green Market Square and meeting with SADSAWU and COSATU

Education: Fezeka High School, Camps Bay Elementary School, Africa Jam
History and Culture: Robben Island Memorial, Desmond Tutu Peace Centre, Cape Town Holocaust Centre, Imizamo Yethu township, Slave Lodge, and District 6 Museum

Application Requirement
Fully enrolled American University student
Interest in social issues in South Africa
Ability to work and live with a multi-ethnic team with students from different countries
Be open and respectful of cultural difference
Skills to work with a non-profit (teaching, business, marketing, community organizing, health, sports, administrative)
There are no language requirements for South Africa program

Faculty Accompanying Students

Dr. Bette Dickerson from the AU Sociology Department will travel and live with students and place them at their site.  Her role is to accompany and advise the students in their work with the social service agencies.

Credits

Independent study credits are optional (and have an additional cost).  They should be worked out individually with a professor identified by the student.