Monday - Friday 9:00 a.m. - 5:00 p.m.
Center for Community Engagement and Service
4400 Massachusetts Avenue NW
Washington
,
DC
20016
United States
The Newman Civic Fellowship honors inspiring college student leaders who have demonstrated an investment in finding solutions for challenges facing communities throughout the country. Through service, research, and advocacy, Newman Civic Fellows are making the most of their college experiences to better understand themselves, the root causes of social issues, and effective mechanisms for creating lasting change. These students represent the next generation of public problem solvers and civic leaders. They serve as national examples of the role that higher education can—and does—play in building a better world. The Newman Civic Fellowship is made possible through the generous support of the KPMG Foundation and Newman's Own Foundation.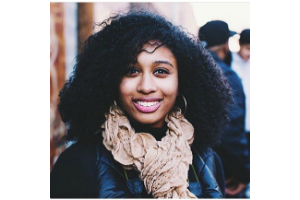 Asha Smith
Law & Society: Class of 2018
Written 2016
Asha Smith, is a student active in issues of race, education and human trafficking. For the past two years, she has worked closely with DC Reads, a tutoring, mentoring, and advocacy program committed to providing literacy resources to underserved youth in Washington, DC. She co-founded two student clubs: the NAACP Club, which provides students with opportunities to actively be involved in the fight for civil rights and the Park Tudor School Anti-Human Trafficking Club, which educates students about the issue of modem slavery, and gives them opportunities to make meaningful contributions to end it. She is a dynamic and deeply compassionate leader capable of building alliances across diverse groups, motivating her peers to take action and developing strategies to work in solidarity. Her unwavering commitment to ensuring the fair treatment and dignity of marginalized communities is inspiring.
In her words….
"I was privileged to grow up in a family where public service was the norm. At a young age my parents taught me not to complain about the things I didn't like, but instead fix them. Hence, I naturally gravitated toward community service in high school and continued my efforts in college through our DC Reads program. DC Reads combined my interest in activism and social change with my passion for working with youth through teaching at the Higher Achievement Program. College for me is not only the place where I am learning to be a competent professional, but the opportunity to collaborate with my peers on social justice issues I deeply care about. As a "Politics, Policy and Law" major I am drawn to the policy side because it will allow me to make systemic change. Upon graduation, I hope to teach and ultimately go into the education policy field to improve the public education system with a focus on urban education."  
Past Recipients of the Newman Fellow Awards
Tatiana Lang (2015)
Melissa Mahfouz (2011)