Going Green In Campus Life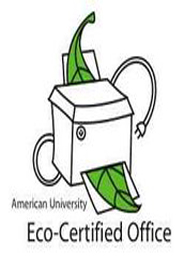 It's not easy going green but the Office of Campus Life is committed to getting there any way. Through the program created by the student-run group Eco-Sense, the office is determined to have a minimum of 75% of its departments Eco-Certified by June 2009. 
The Eco-Certification process includes an hour-long training by Eco-Sense members. This training goes over many of the basic actions deemed necessary to be considered a green office at AU.
A list of 44 items is then distributed (via email, of course, so as not to waste paper) for offices to use as a guideline to creating an eco-friendly working environment.

Only 30 of these items need to be checked off in order to receive the Eco-Certified Office title that comes with an attractive sticker that has offices racing to finish the list.
Other notable OCL Green Initiatives: