Frequently Asked Questions about AU's E-mail Archiving System
---
How does AU's e-mail archiving system work?
The Office of Information Technology has implemented a server-based archiving solution for Lotus Notes. Scheduled archiving will automatically run on our mail servers to move documents that have not been accessed in the past two years from your active mail file into an archive mail file on a dedicated archive server. This helps to keep your active mail file smaller, which improves the overall health and efficacy of the AU e-mail system. Back to List
How do I access my archived messages in Lotus Notes?
Documents moved to the archive are accessible via the Archive link on the left pane within your Notes client, below Folders, as shown below: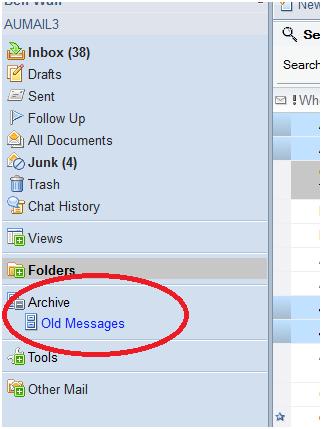 How do I access my archived messages through the Web?
Log into AU webmail at https://mail.american.edu, using your AU USER NAME and PASSWORD. You will need to switch to the Full Mode of WebMail in order to access your archived messages. You can switch to FULL MODE using the link at the top right of the page as shown below. You will then see a link to your archive on the left below Folders:

How do I access my archived messages through an IMAP client such as Thunderbird, or through my mobile device?
Unfortunately you cannot access your archived messages through an IMAP client or through a mobile device. The easiest way to access your archived messages in this situation is to use webmail. Refer to the above question for instructions. Back to List
Can I still access my local archive, if I had already created one?
Local archives that you had previously created are accessible by opening the .nsf file from within the Lotus Notes client. To do this, select FILE, OPEN, and LOTUS NOTES APPLICATION, then browse to the local archive location. Archiving to a server eliminates worries over losing local archives to hard drive crashes or forgetting about them during computer migrations. If you would like assistance merging your local archive with your server archive, please contact the Help Desk. Please note that local archives can not be accessed through webmail. Back to List
How can I find my messages once I access my archive?
Messages in folders will be moved to a folder of the same name in the archive database. The Search feature in your archive works the same way as it does in your inbox. Please note that you will need to search your archive and inbox separately as neither one searches the other. Back to List
Can I manually archive my messages?
You can manually move items to your archive by selecting the documents you want to move, then selecting ACTIONS, ARCHIVE, and SELECTED DOCUMENTS, then clicking OK at the prompt, as shown below: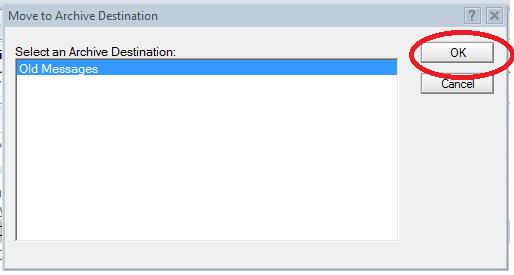 Do I currently have a server-based archive set up?
We are beginning the process of moving to server archives, and you may not have been configured for this service yet. If you would like to be an early adopter of server-based archiving, or if you have questions or concerns about this new service, please contact the IT Help Desk at 202-885-2550, helpdesk@american.edu, or AskAmericanUHelp.