Frequently Asked Questions about AU's Spam Filtering System
---
How do I manage the spam filter settings on my e-mail account?
E-mail containing unsolicited advertisements, potentially offensive content, or information that is irrelevant can be managed using the special website for you to set your spam filtering preferences, including opting out of the system, at https://spam.american.edu. Back to List
How does the spam filter identify, quarantine, and notify me of messages suspected to be spam?
When first received at the university, e-mail is evaluated based on the source of the message: the spam filtering system examines the IP address of the server sending or relaying a message and checks this against a list of known bad addresses. Messages sent from these bad addresses are blocked outright.
Next, after the message sender is approved, the filter scans the message's content, including all headers, the body, and any attachments, and compares it to the rules for identifying spam. If a part of the message is found to match one or more rules, this raises the message's spam score, or probability of being spam. All messages are assigned a probability that it is spam based on specific rules and a variety of analytical techniques.
The spam filtering system will automatically delete messages assessed at a 99% or 100% probability of being spam. Messages assessed with a 50% to 98% likelihood of being spam will be quarantined on the spam filtering server and you will receive a daily summary of these messages, and the opportunity to delete, ignore or add the sender to your approved senders list, which pre-approves them to send future messages to you without them being quarantined. Back to List
How do I know when I have a message in the quarantine?
Every day at 5 a.m., the quarantine will send e-mail to addresses which have received spam, with a list of all of the messages marked as spam in the quarantine which have arrived in the last 24 hours. The message will be from AU Spam Digest and contain a list of all of the messages that were marked as spam.

What do I need to do with messages in my quarantine?
If you take no action on the quarantined messages in the digest, they will be deleted after two weeks. Each message in your quarantine summary has a code beside it, on which you can click to create a message to send, approving and releasing from quarantine a specific message. Back to List
If I don't release or delete messages in the quarantine, how long will they stay there?
Two weeks:. After 14 days, the messages in the quarantine are automatically deleted. Back to List
I want to make sure I always get e-mail from a certain person or organization. How do I guarantee this?
NOTE: All email sent from AU accounts is not subject to filtering and thus does not need to be white listed.

Log onto https://spam.american.edu using your portal user name and password. Click on APPROVED SENDERS. At the bottom of the page, add the e-mail address and then click the ADD SENDER button.
Adding an entire domain, such as @gmail.com, is not recommended. Most spam is designed to appear from a common domain such as this one.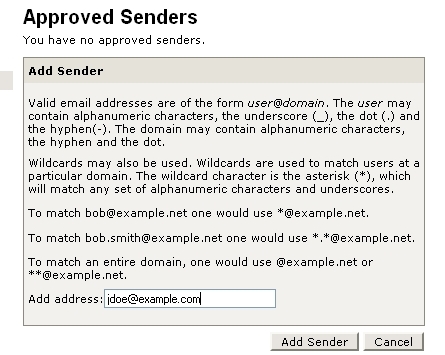 I have a false positive: that is, the quarantine is holding a message which I want to receive. What do I do?
There are several things you can do to resolve this. One option good for most people is to click on the code which starts with a # to the left of the message. This will open a new message. Click SEND. This will release the message from quarantine into your inbox.
Another option is to log onto https://spam.american.edu using your portal user name and password. Click on BLOCKED MESSAGES. Select the message you would like to release to your inbox and click on either DELIVER MESSAGE or DELIVER & APPROVE SENDER. The later will add the sender to your white list, or approved sender list. If you are using webmail or accessing your mail through the portal, the latter option is recommend.

I constantly receive e-mail from an annoying vendor or organization to whom I gave my business card at a conference once, but the spam filter doesn't quarantine it because it's sent from a legitimate group. How can I prevent seeing messages from them in the future?
Log onto https://spam.american.edu using your portal user name and password. Click on BLOCKED SENDERS. At the bottom of the page, add the e-mail address or, for an entire organization, the last part of the e-mail address, such as @american.edu and then click the ADD SENDER button. Back to List
Why do I still occasionally get spam in my inbox anyway?
Please note that the spam filtering process is not foolproof; there is always a chance that legitimate e mail will be flagged in error - or that spam will not be recognized. We encourage you to review the quarantined messages to make sure you are not missing any important correspondence.
Because spam filtering is a constantly evolving field with the spammers frequently changing methods, sometimes you may encounter a false negative, or a message that should have been quarantined as spam, but was not. The spam filter rules are updated every five minutes, so new spam campaigns may be initially delivered to your inbox, but shortly will be quarantined. According to the vendor of our spam filter, new campaigns are addressed in the spam rules within 12 hours. If you are getting repeated spam messages delivered to your inbox, please leave the message there and contact the IT Help Desk at 202-885-2550, helpdesk@american.edu, or AskAmericanUHelp. Back to List
I got a message which is not just annoying but actually appears to be illegal. What should I do?
If you get spam e-mail that you think is deceptive or criminal in nature, please forward it to spam@uce.gov. The FTC uses the spam stored in this database to pursue law enforcement actions against people who send deceptive e-mail. Back to List