CIO Update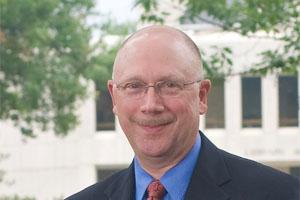 We have started another academic year; and the launch of this semester has gone very well. The strong collaboration between the University Library and the Office of Information Technology helped to onboard a couple of thousand new students and faculty. There has been much progress over the summer; and there are many new services being introduced to campus.
This newsletter is one avenue we have for sharing with you the major projects we have been working on to support AU's strategic goals and introduce any organizational changes. The other is our Annual Report that provides a deeper look into the projects that have been completed in the past year, our project plans for the upcoming year, performance metrics, and testimonials from you, our campus partners, with whom we depend on for successful outcomes. I encourage you to review our newsletter and also this year's Annual Report.
As you read this issue of our newsletter, I would like to direct your attention to a few stories that emphasize our partnerships, with you, the AU community. One is collaboration with the Library the Library to change the location of our OIT Walk-in Services from the Anderson Computing Complex to the library. The Technology Support Desk is a response to provide more visible, accessible support to our student population. Though students were the primary target, staff and faculty are supported too and we encourage you to drop by.
For our faculty members, in response to the strategic goal of engaging the great ideas…through research, we have delivered a simplified approach to Research Grants Reporting to provide funded faculty reports and data around financial information in a timely manner. For our staff and faculty, after a lengthy process of testing and working with technology partners around campus to ensure compatibility with enterprise applications, we have begun to introduce Windows 7 on new workstations. Windows 7 offers an improved user friendly interface and can be configured differently than the Windows XP systems, to streamline the login process, reducing the number of times you have to put in your username and password. I encourage you to read our newsletter to learn about several other projects that we have worked on in response to your requests.
Finally, I am honored to lead a talented group of staff members. They make it possible for us to successfully fulfill your requests. Over the summer I made two important changes regarding my senior team. Terry Fernandez was promoted to Senior Director of Customer Services & Support; and Kamalika Sandell was appointed as Associate CIO, effectively second in command for the Office of Information Technology. Kamalika made us proud by winning the prestigious leadership award at the recent annual Women in Technology event. Please also read about our new Director of Systems Engineering Services, Michael Grinnell, and take a look at our New Faces & Staff promotions for the complete list of organizational changes at OIT.
Thank you for supporting our work in the OIT; we look forward to continued collaborative opportunities.

Kind regards,
Dave Swartz
Chief Information Officer
dswartz@american.edu