Continuing the Journey with Virtual Student Services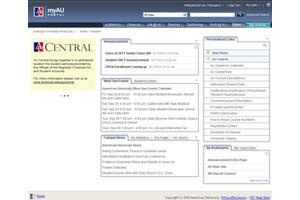 Improving student services continues to be a key focus for AU. Last year, OIT worked with campus units to realize the physical one-stop function AU Central. The objective this year involves shaping and maturing the virtual component of student services.
Many of these services exist online, but they had been built with the objective of automating the process from the point of view of the functional unit, not with the intuitiveness that is needed to service a student without first generating additional questions. Services, when implemented, need to take into consideration some level of interactive design that guides the student through available choices and assists in easy decision making.
The first phase of the Virtual Student Services program is in progress now. This phase focuses on effectively virtualizing processes related to Student Accounts, Financial Aid, and the Registrar's Office. More than 40 projects have been implemented to address gaps in the top 25 process areas that needed improvements. These projects involved technology, operations, policy and communication-oriented changes. OIT will continue identifying improvement opportunities for the rest of the processes over the next 12 months.
Many large projects are planned, including automation of internship and independent study registration, and improvements to the refund process, work-study-related processes, and student registration.
The ultimate goal through future phases and broader campus participation will be to establish a virtual presence for all student services. Such a virtual platform will transcend organizational boundaries and focus solely and effectively on getting students what they need through a simple, easy-to-use, interactive Web-based interface.
If you have any questions about this initiative, contact the IT Help Desk at 202-885-2550, e-mail helpdesk@american.edu, or instant messenger at AskAmericanUHelp.


>>Back to Newsletter