Walk On Over for IT Support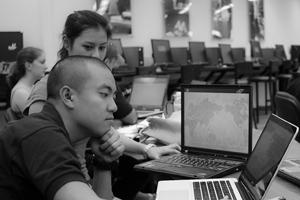 Have you needed technology support on campus and just wanted someone to fix it, at a time that was convenient for you? The Office of Information Technology and the University Library are pleased to announce that effective Monday, October 17, 2011, the Office of Information Technology's technology support service moved from the Anderson Computing Complex to the Bender Library on the main campus quad.
The new service is now known as the Technology Support Desk. The service is temporarily housed in Collaborative Workroom 4, on the first floor of the library adjacent the main reference desk. The Technical Support Engineers are available from 10:00 AM to 6:00 PM Monday through Friday for walk-in assistance.
Just sign in using one of the two queuing stations, one at the Information Desk and one on a cart in front of the Collaborative Workroom 4, for assistance with a wide range of issues, such as:
AU computing accounts and passwords
AU-supported software support
connecting to the wired and wireless networks
accessing your e-mail
hardware referrals for students
hardware repair for AU-owned workstations for faculty and staff
health check remediation
troubleshooting
system restoration
virus removal
and more
The Information Desk staff continue to handle basic troubleshooting with laptops, including wireless set-up and remote printing installation, as well as Library technology such as printers and desktop computers. When in doubt, technology questions can be forwarded to the Information Desk who will then work to ensure patrons receive the assistance they need.
This partnership contributes to the philosophy of a one-stop shop for information and technology support services to best serve our customers. There will be much more information about the evolution of these integrated technology support services as they develop. Watch this space.
If you have any questions about this initiative, contact the IT Help Desk at 202-885-2550, e-mail helpdesk@american.edu, or instant messenger at AskAmericanUHelp.


>>Back to Newsletter