Making Achievement Possible through MAP-Works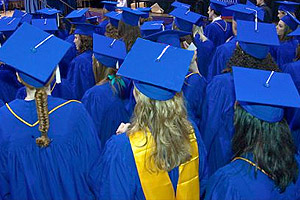 The Office of Information Technology, in conjunction with Academic Affairs and Campus Life, has implemented a new Student Retention and Success Tool called MAP-Works, Making Achievement Possible. MAP-Works is an online tool available to first-year students, new transfer students, and Washington Mentorship Program students. These students use MAP-Works to assess their skills and behaviors among a number of factors known to contribute to student retention and success.
After completing a brief online survey, students receive a self-assessment report that identifies their strengths and weaknesses along with a list of campus resources that can help students build areas of strength. The report facilitates a process of personal discovery for new students and puts them in the driver's seat to take responsibility for their academic and personal success. MAP-Works provides the AU community with a common language for student success as AU pursues the common goal of supporting and facilitating student success.
Additionally, the MAP-Works experience spans the entirety of a student's first year at AU. Students continue to contribute to their MAP-Works portfolio with the Fall Check-Up and Spring Check-Up Surveys, dynamically impacting their individualized report with each interaction. Any changes to a student's prospects for success will be shared instantly with the student, and campus staff will provide supplemental support when needed.
The MAP-Works Fall Transition survey launched on September 19th for all new first year (1,547), transfer (303), and Washington Mentorship Program (119) students. In total, 1,971 students received the survey. As of October 25, 2011, 1,318 students completed the survey, for a total response rate of 67 percent.
For additional information about MAP-Works and its implementation at AU, visit www.american.edu/provost/map-works.