CIO Swartz Wins Award for Leadership in Higher Education Information Technology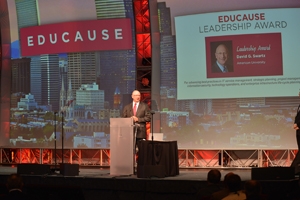 At the fall 2012 Annual Conference of EDUCAUSE, a nonprofit association advancing higher education through the use of information technology, CIO Dave Swartz received the EDUCAUSE Leadership Award in front of 6,000 colleagues for advancing best practices in IT service management, strategic planning, project management, information security, technology operations, and enterprise infrastructure life-cycle planning.
This honor celebrates Dave's work experience at AU, experience at prior institutions, service to EDUCAUSE, and overall leadership in the profession, which have had a signficant positive impact on furthering the theory and practice of information technology in higher education.
At the conference, Dave conducted a leadership-focused session, entitled "The Self Aware Leader." This presentation was so well received that he has been asked to speak at several large corporate events. In addition to the award, EDUCAUSE contributed $3000 on Dave's behalf to a scholarship to benefit an AU student in need.