MyAU Gets An Upgrade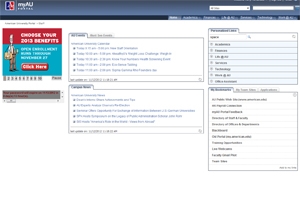 In late October, staff within the Office of Information Technology worked around the clock to seamlessly upgrade the MyAU portal, without anyone noticing. This "behind the scenes" upgrade was necessary to maintain currency to continue our support with the vendor; however, it also allowed for tighter integration with the Team Site environment, which will simplify and streamline our troubleshooting efforts regarding access issues affecting all applications.
The new architecture also put us in a better position for moving forward. Combining the power of targeted links and the creation of team sites enabling collaboration, the new portal architecture will enable the creation of additional portals for such constituencies as the Board of Trustees, newly admitted students, new students, new faculty, and so on.
For additional information about this upgrade, please contact the IT Help Desk at 202-885-2550, e-mail helpdesk@american.edu, or instant messenger at AskAmericanUHelp.