Thanks to Your Feedback - Connecting to AU's Wireless Network is Even Simpler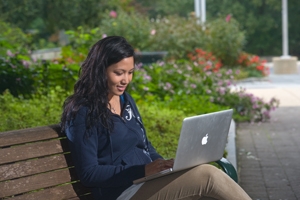 In response to customer feedback, OIT created a cross-functional team to work to improve the wireless network. Working through the summer, the team reconfigured the wireless network and simplified wireless access by:
Removing the "SafeConnect" computer health check system from the wireless network;
Removing the "Wireless SetupAU" network from the wireless infrastructure;
Removing the "XpressConnect" tool from the wireless network;
Installing two new Aruba Networks ClearPass appliances for the new wireless authentication;
Creating a new network called "eagle-secure" for simpler network access;
Implementing a new notification system to send email reminders prior to users' password expiration, so that they can change it proactively before the system restricts the ability to log on;
Creating video tutorials for each operating system to show how to connect to eagle-secure; and
Introducing a new password policy option that allows for a 16-character password that only has to be changed annually, and allows users to specify a pass-phrase using natural language. (Research shows that using pass-phrases like sentences is easier to remember and type, as well as more difficult to hack. It also makes it easier to connect to wireless network via multiple mobile devices).
Additionally, OIT conducted a comprehensive site survey to identify the location of poor wireless coverage, weak signals, and blind spots in residence halls, academic and administrative offices, and outdoor areas. For better coverage and signal strength, wireless access points (AP) were installed or relocated throughout campus, including:
Relocation of 302 APs in Letts, Anderson, Centennial, Hughes, McDowell, and Leonard.
Repositioning of 54 APs in Bender Library, Mary Graydon Center, Ward, Katzen, and Butler.
Installation of 20 more APs in some of the academics and administrative units.
Installation of new model APs – 90 in Cassell, and 52 in the new Nebraska Hall wing.
Installation of seven outdoor APs on the roofs of Bender Library, Mary Graydon Center, Battelle, Kay, Hurst, and Leonard to provide better wireless signal strength and coverage for the quad and Woods-Brown Amphitheatre.
The changes that have been implemented are a direct result of the feedback OIT received from customers and the department's dedication to meeting the technological needs of the AU community, as well as its overall commitment to providing the most reliable and secure information technology infrastructure possible.
For help with getting connected to AU's wireless network, please contact the IT Help Desk at 202-885-2550, e-mail helpdesk@american.edu, or instant messenger at AskAmericanUHelp.