Attacking Viruses
No One Is Immune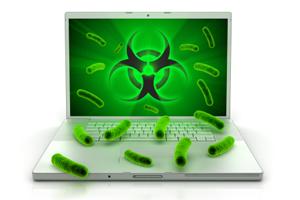 Recently a particularly bad computer virus has been discovered that targets Mac-based computers. The virus, called Flashback or Flashfake, takes advantage of out of date software on your computer.
As of April 12, 2012, the Office of Information Technology (OIT) has discovered approximately 100 infected Mac computers on the AU network.
OIT staff have been working hard to:

Identify infected computers;
Alert their owners to the infection and share remediation instructions; and
Protect other AU network users from being infected.
Remember: It doesn't matter if you have a PC or a Mac. It is very important to keep all your installed software up to date. Mac computers are not immune to viruses; and cyber criminals are targeting Mac users more often. It is crucial for all individuals to keep their computers up to date.
What does this mean to me?
If you use a Mac computer, we strongly recommend that you update your software. You may do this by going to the APPLE menu, selecting SOFTWARE UPDATE, and installing all the updates that are available.
For additional information about this virus, please contact the IT Help Desk at 202-885-2550, e-mail helpdesk@american.edu, or instant messenger at AskAmericanUHelp.