Concluding the Faculty Gmail Pilot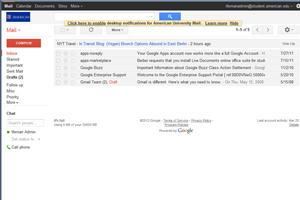 Throughout the spring semester, the Office of Information Technology conducted a pilot project to extend Google Applications, including Gmail, to a group of faculty testers to enable collaboration with students and other faculty who are currently using Google Applications.
In January 2012, the pilot project kicked off with approximately twenty faculty participants. Their mail was configured so that they could access it either through their AU-sponsored Gmail account or through their normal mail application. This gave them peace of mind that they could use the environment that they felt most comfortable with, without interruption of service. In addition, they could compare and contrast features.
Since the spring semester is coming to a close, we are preparing to conclude the pilot. Feedback is being solicited, gathered,and analyzed to determine our next steps.
For additional information about this pilot, please contact the IT Help Desk at 202-885-2550, e-mail helpdesk@american.edu, or instant messenger at AskAmericanUHelp.