Implementing Phase Two of the myAU Portal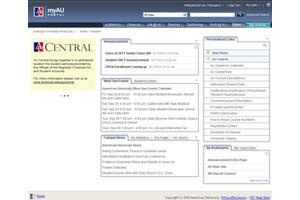 In addition to refining much of what has been made available through the phase one implementation of the myAU portal, the overall goal of phase two was to target content, such as links, announcements, and services, dynamically and specifically to personalize the portal user experience. This has been done through two key projects.
New Today@AU Announcement Feature Launched
On March 9, 2012, American University introduced a new version of the Today@AU e-newsletter for campus announcements. Since its inception in 2001, Today@AU has become an essential resource for communicating with students, faculty, and staff in the AU community. However, its production and distribution depended upon outdated technology and inefficient work flow, making it challenging for users to submit and post announcements in the most convenient, targeted, and timely manner.
The new Today@AU offers updated software tools for submitting, approving, viewing, and delivering announcements that will make for a more responsive and efficient user experience.
The new tool offer several enhancements for users of Today@AU:
Submitters can target announcements to a specific audience within the AU community.
Announcements may be posted for a longer period of time (up to seven consecutive days).
Approval and editing of the announcements will be handled directly by designated staff in each university division to streamline the process.
Approvers will be able to review, edit, and approve announcements within AU's portal, enabling more efficient workflow.
Users will have multiple options for viewing current announcements through the portal, web, and e-mail.
Postings from previous days will be available for review.
A Growing Number of Team Sites are Now Active
The university thrives on collaboration, whether through formal project teams, informal working groups, special interest groups, departmental management teams, etc. In the past, most of these groups have relied heavily on e-mail messages to communicate, share documents, and exchange ideas. Although e-mail has worked as a messaging tool for these purposes, it is challenging to keep track of related topics simply through e-mails.
Microsoft SharePoint, the technology on which the portal is built, provides a great platform to collaborate through the implementation of team sites. More than 40 team sites have been rolled out in a phases for project teams and departmental committees, while we prepare to operationalize the support model longer term.
We hope to complete a full rollout of team sites with appropriate training for team site owners later this year. These powerful tools can be used for collaboration among research faculty with a specific interest, staff working on project teams, budget committees, departmental committees, and more.
For additional information about the Today@AU announcement feature or Team Sites, please contact the IT Help Desk at 202-885-2550, e-mail helpdesk@american.edu, or instant messenger at AskAmericanUHelp.