OIT Staff Receive Awards from University Honors Program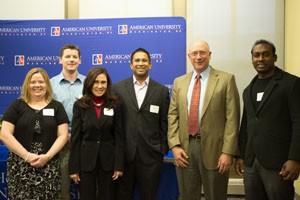 Office of Information Technology staff were thrilled to have been the recipients of two separate Staff Awards at the Seventh Annual University Honors Program Award Ceremony, on February 22, 2012.
Myle Luong, Senior Application Developer, Enterprise Systems - was acknowledged for her work in moving forms for the University Honors Program from paper to the Web.

The Office of Information Technology's Help Desk and Technical Support teams were acknowledged for their support to the University Honors Program, especially during its move from Hurst Hall to Hughes Hall.
It was truly a privilege to be among the great faculty, staff, alumni, and students that were also recognized at the reception.