OIT Wins 3 Communication Awards at SIGUCCS National Conference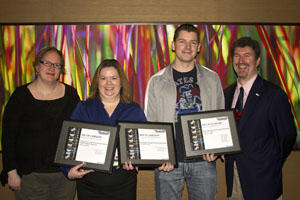 The Office of Information Technology (OIT) is proud to announce that American University won 3 separate "Best of Category" communication awards, at the Association for Computing Machinery's Special Interest Group on University and College Computing Services (SIGUCCS) conference in November of 2011.
The university took "Best of Category" honors in the following categories:

Electronic Newsletter for our "AU Information Technology Newsletter – Spring 2011 Edition" - OIT's online newsletter is published twice a year at the start of each major academic semester. It provides the AU community with the latest news and updates regarding our recent accomplishments and upcoming IT initiatives.
Electronic How To Guides (Individual) for our "Introduction to the American University MyAU Portal for Students" - This online guide was created to introduce current AU students to the new MyAU web portal, during its rollout in the Summer of 2011. It was only our third OIT-created electronic tutorial.
Printed Instructional Classroom Materials for our "Research Grants Financial Reporting" – This instructional guide was created to teach faculty principal investigators how to examine and project budget, expenses, and unobligated amounts for their research grants, using AU's new Research Grants Reports in the MicroStrategy Business Intelligence system.
The awards were presented officially to American University at the ACM SIGUCCS Fall 2011 Conference last month in San Diego, CA. The award-winning publications developed at college and university computing centers were showcased at the annual conference. Attendees were given the opportunity to review the model publications to help them develop or enhance their own work.
For a full list of communication award winners, you can visit the SIGUCCS Awards website. SIGUCCS is an association of professionals who support and manage the diverse aspects of information technology services in higher education institutions. They provide a forum for the professional development of individual members through conferences, publications, and other services.
For more information about the awards, please contact the IT Help Desk at 202-885-2550, e-mail helpdesk@american.edu, or instant messenger at AskAmericanUHelp.