Transitioning to a New Datatel User Interface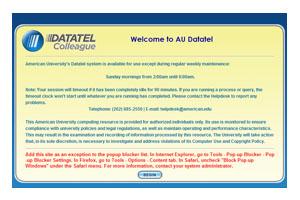 The Office of Information Technology recently decommissioned the Datatel User Interface (UI) 4.1 server and transitioned users to the upgraded Datatel UI 4.3 version, as vendor support had ended for the previous versions of UI. The change was necessitated to maintain currency with the current release of the product and vendor supported software.
The upgrade required thousands of man hours to migrate and test all of the AU custom software, as well as customizations to Datatel-delivered software, in order to be compatible with UI 4.3.
UI 4.3 introduced the following benefits:
Performance – Significant performance improvements as 60% fewer packets are sent between the PC and the UI server as compared to UI 4.0/4.1.
Security - Built in enhanced security.
Form Sizing - Better focus management between forms and the rest of the UI.
Form Focus Issues - Window and form area resizing and zooming support.
Form Printing - The ability to directly print Colleague forms.
Exporting Support - Spreadsheet exporting support for window data.
Picture Support - See staff and student pictures from within Colleague's new person context card.
Easier Navigation - Work with several people across forms easily.
Favorites - Save forms, as well as people, as "favorites."
Forget all those mnemonics – Search on a keyword or description of what the form does.
Improved Search Capability – Search on multiple forms, across Colleague applications.
Mapping - Use Yahoo's mapping tools to see geographic trends.

The Office of Information Technology will be working to migrate all remaining users of the old Datatel Desktop UI client, prior to the summer.
Classes are being offered to orient Datatel users to the new 4.3 interface. If you have any questions about this implementation, please contact the OIT Help Desk at 885-2550, helpdesk@american.edu, or instant message AskAmericanUHelp with any questions.