ULearn Encourages Staff Professional Development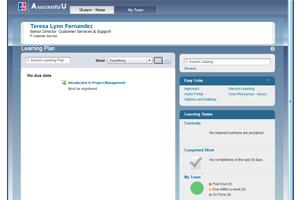 On February 8, 2012, Human Resources and the Office of Information Technology partnered to launch a new training registration and tracking system, known as ULearn, for all full time AU staff and faculty supervisors.
ULearn is all about what you KNEW, KNOW, and will KNOW.
The ULearn module of the AsuccessfulU talent management system allows you to register for professional development courses, track your training, and view your training history.
ULearn makes it easy for staff to:
Register for professional development courses offered by Human Resources, the University Library, the Office of Information Technology, and the Office of Campus Life.
Track internal and record external professional development and training in one location, accessible to the staff member and their manager.
Provide a searchable edition of the Professional Development and Wellness Education catalog.
Bookmark courses you are interested in taking in the future.
Find and register for specialized training offered for facilities and public safety staff by their departments.
Receive automatic notifications of your registration and completion of a certificate program.
Coming soon, there will be a number of online Professional Development courses available to take through the ULearn system, in the following areas:

Reducing your digital risk - Information Security topics for the digital age
Information Technology Courses, such as:


Datatel UI 4.3 New Features
Datatel UI Introduction
EagleData Introduction
Avaya Unified Messaging
Intro to MYAU Portal for Students, Faculty, & Staff
Using Datatel's XGAR Screen
Editing your Staff Profile

Online Application Recruiting System Tutorials
For additional information about the ULearn system or course registration process, please contact the IT Help Desk at 202-885-2550, e-mail helpdesk@american.edu, or instant messenger at AskAmericanUHelp.