Document Imaging Delivers Efficiency Gains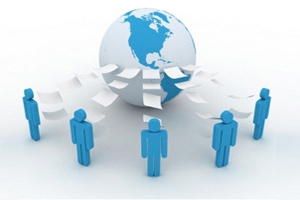 After Winter Break, the Office of Enrollment staff that process the documents submitted by prospective students put the new document imaging system to the test. In previous years, the staff would have had to spend two to three weeks working non-stop to process the backlog of documents that had been submitted during the University's closure between the Christmas and New Year's holidays.
This year things were dramatically different, since the Office of Enrollment has become one of the latest adopters of the ImageNow document imaging solution. In just a few hours, the staff were able to process all of the thousands of documents that were submitted. The team couldn't have been more thrilled.
The ImageNow system allows documents, such as: insurance claims, litigation, contracts, invoices, student transcripts, and financial aid documents to be scanned, indexed, and stored in a digital format in a central repository. This will help minimize or eliminate the need to print or send files as attachments in emails for review or approval as well as allow users to retrieve documents quickly and efficiently.
The Office of Enrollment is not alone, in that there are several separate pilot implementations planned for various business offices to try to help streamline current business processes using document imaging, workflows, electronic approvals and signatures, and other key functions to improve efficiency and productivity.
Here are some highlights of the early projects:
The first implementations completed were for the Office of General Counsel and the Office of Finance & Treasury for their Claims and Legal, and Gifts document repositories.
During the Fall semester, the Office of Enrollment adopted ImageNow with a document repository for Admissions. At present, the Office of Information Technology team is working to convert the 350,000 admissions documents from the old Domino.Doc system that must be retained.

Accounts Payable has developed a comprehensive workflow process inside of ImageNow to facilitate the approval and processing of invoices. They are currently piloting this process with two University departments, and are anxious to roll it out to the rest of the community by the end of the year.

The Office of Enrollment is planning to expand their implementation to include documents and workflows to support Financial Aid. The team is busy designing and developing the workflows now, with the goal of implementing it by the end of April 2013.

For additional information about this implementation, please contact the IT Help Desk at 202-885-2550, e-mail helpdesk@american.edu, or instant messenger at AskAmericanUHelp.