Meet the Newest Member of the OIT Senior Leadership Team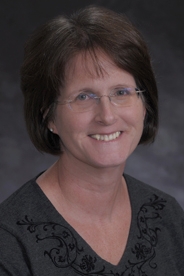 The Office of Information Technology is pleased to announce Laurie Ambach has been named the Senior Director of Enterprise Application Analysis & Development. In her new role, Laurie joins the OIT Senior Leadership Team in taking an active role in strategic planning efforts for the OIT departments. In addition, Laurie's responsibilities will expand to manage the campus project portfolio related to the University's Enterprise Resource Planning System, known as Colleague, and other applicable applications to implement technology solutions to meet the needs of the University. She will also continue to oversee the Integrated Technology Solutions and Student Information Systems teams.
Laurie has worked in the Office of Information Technology for sixteen years. She began her career at AU as a Systems Analyst. In 2008, Laurie was promoted to the Director of Student Applications position. Then, in 2010, she was promoted to the Director of Applications Analysis & Development.
Laurie has twenty-nine years of experience in the Information Technology industry. Before coming to AU, she worked in the banking and student loan industries. She holds a degree in Business Administration from Loyola University of Maryland.
Please join us in congratulating Laurie on her promotion.