Streamlining the Undergraduate Admissions Process Using Business Intelligence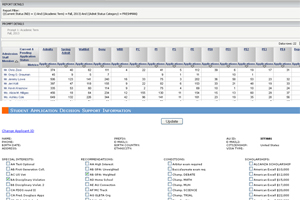 The Office of Information Technology has developed a state-of-the-art Business Intelligence application that allows the Office of Enrollment to have up to date information about undergraduate admission applicants. The system also allows them to easily track applications, as they go through the admissions lifecycle. This tool also allows the team to more efficiently manage the process.
Some of the highlights of the system include:

Over twenty users from the Office of Enrollment are using the BI platform to perform their daily undergraduate admission application process reviews.

The application gives them highly detailed insight into the entire applicant body, as well as each individual applicant on both a macro and micro level.

There is a seamless link to the Student Application Decision Support Information in Colleague.

Any exceptions or missing information critical to the admission process can be immediately identified and corrected.

For more information on the current Business Intelligence applications, please contact the IT Help Desk at 202-885-2550, e-mail helpdesk@american.edu, or instant messenger at AskAmericanUHelp.