Sylvia M. Burwell President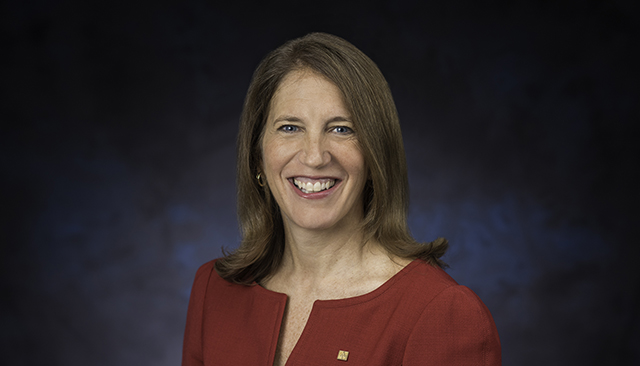 Sylvia M. Burwell is American University's 15th president and the first woman to serve as president. A visionary leader with experience in the public and private sectors, President Burwell brings to American University a commitment to education and research, the ability to manage large and complex organizations, and experience helping to advance solutions to some of the world's most pressing challenges. President Burwell joined AU on June 1 and succeeds Neil Kerwin.
Sylvia M. Burwell served as the 22nd Secretary of the United States Department of Health and Human Services (HHS) from 2014 to 2017. As Secretary, she led the Department in making progress towards the vision of ensuring that every American can access the building blocks of healthy and productive lives. During her tenure, the Department shepherded the implementation of the Affordable Care Act, pioneered groundbreaking advances in research and innovation, and expanded critical services for children and families.
Previously, she was the Director of the Office of Management and Budget (OMB), where she worked with Congress to negotiate a two-year budget deal following the 2013 government shutdown. Her prior government experience includes Deputy Director of the Office of Management and Budget, Deputy Chief of Staff to the President, Chief of Staff to the Secretary of the Treasury, and Special Assistant to the Director of the National Economic Council.
President Burwell served 11 years at the Bill and Melinda Gates Foundation, including roles as the Chief Operating Officer and President of the Global Development Program, where she led the creation of strategies and built the teams to implement this new program made possible by a donation from Warren Buffet. The program focused on agricultural development, water sanitation and hygiene, and financial services for the poor.
After the Gates Foundation, she was the President of the Walmart Foundation-where she led efforts to fight hunger in America, empower women around the world, and leverage Walmart's presence in local communities to reach millions of people. During her tenure, the Foundation surpassed $1 billion in total giving.
She earned a bachelor's degree in Government from Harvard University and a BA in Philosophy, Politics and Economics from the University of Oxford as a Rhodes Scholar.
A second-generation Greek-American, President Burwell is a native of Hinton, West Virginia. She and her husband Stephen Burwell are the parents of two young children.