David Taylor Chief of Staff; Secretary, Board of Trustees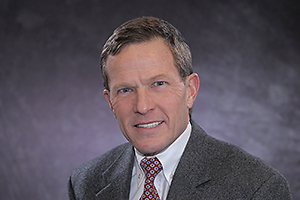 David Taylor became chief of staff to American University's president in 2000. He was named secretary to the Board of Trustees in May 2013.
He previously served as director of media relations (1992-1995) and special assistant to the president (1995-2000). Taylor works closely with the president and administrative leadership to carry out the president's initiatives and is responsible for presidential communications, issues resolution, community outreach, and other duties on behalf of the president. He oversees the Office of the Secretary, Board of Trustees; the Office of Special Events; and WAMU 88.5. He also serves as the president's liaison to on- and off-campus groups and constituencies.
He was acting director of Athletics and Recreation from December 2012 through April 2013. From September 2006 to June 2007, he assisted the president with oversight of Athletics and Recreation. The university's intercollegiate athletic program, with more than 250 student-athletes participating in 16 varsity sports, competes in the Patriot League, which focuses on both academic and athletic achievement.
From January 2006 to April 2008, he oversaw University Communications and Marketing and worked with the president and university leadership to assess and augment the university's Web presence.
From November 2003 to March 2005, Taylor was acting executive director of WAMU 88.5, the top-ranked National Public Radio news station in Washington, D.C. WAMU serves more than 787,200 listeners in the District of Columbia, Maryland, Virginia, and online and is a member-supported radio station, known for its high quality programming which includes news and analysis, talk shows, and traditional American music. As acting executive director, Taylor worked to re-align WAMU's budget, stabilize staffing, and strengthen WAMU's ties to National Public Radio and to the listening area.
Taylor has 25 years of experience in media relations, communications, and public affairs management in a number of higher education settings, including the University of Maryland-Baltimore, George Washington University, and Emory University. He worked as a national media consultant for Gehrung Associates and represented client universities such as California-Berkeley, Texas A&M, Purdue, William & Mary, Claremont McKenna, Saint Lawrence, and others. He earned a master's degree in journalism from the University of Georgia and bachelor's degree in journalism from the University of North Carolina at Chapel Hill, where he was a member of the men's soccer team.