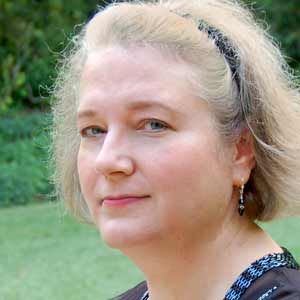 Barbara Hollinshead
Adjunct Instructor
Department of Performing Arts
Barbara Hollinshead is a voice instructor in the applied music program. A mezzo-soprano, she has studied in NY, Washington and with Max van Egmond in the Netherlands. Career highlights include singing Bach at the Thomaskirche (Leipzig), Monteverdi at San Marco (Venice) and the St. Matthew Passion with Tafelmusik (Toronto). She has appeared with many of the East Coast's top music groups, including Chatham Baroque, the Four Nations Ensemble and The New York Collegium, and has sung under such conductors as Christopher Hogwood and Andrew Parrott. Many of Washington's leading groups, such as the Folger Consort, Opera Lafayette and Washington Bach Consort, regularly feature her. She also performs in NY as a member of the ARTEK, which recently received audience ovations and critical acclaim for performances at several European festivals. Her discography includes solo lute songs with lutenist Howard Bass, Renaissance Spanish and Sephardic music with La Rondinella, Bach masses with the Washington Bach Consort and works by Mrs. H.H. Beach. She is professor of voice at AU, a leader of master classes on Renaissance and Baroque styles and a cast member of "Bach to School."
Loading ...

FOR THE MEDIA

To request an interview for a
news story, call AU Communications
at 202-885-5950 or submit a request.
Teaching
Fall 2015

MUS-021 Private Instrument Study: Voice

MUS-022 Private Instrument Study: Voice

MUS-121 Private Instrument/Vocal Study: Voice

MUS-122 Private Instrument/Vocal Study: Voice

MUS-334 Private Instrument/Vocal Study: Junior Recital, Voice

MUS-434 Private Instrument/Vocal Study: Senior Recital, Voice

MUS-791 Private Instrument/Vocal Study: Voice

MUS-792 Private Instrument/Vocal Study: Voice
Spring 2016

MUS-021 Private Instrument Study: Voice

MUS-022 Private Instrument Study: Voice

MUS-121 Private Instrument/Vocal Study: Voice

MUS-122 Private Instrument/Vocal Study: Voice

MUS-334 Private Instrument/Vocal Study: Junior Recital, Voice

MUS-434 Private Instrument/Vocal Study: Senior Recital, Voice

MUS-791 Private Instrument/Vocal Study: Voice

MUS-792 Private Instrument/Vocal Study: Voice