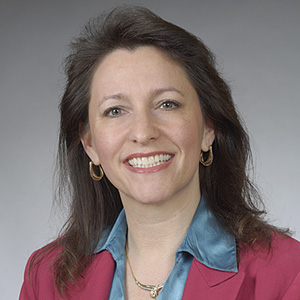 Caren Goldberg
Assistant Professor
Department of Management
Professor Goldberg joined the faculty at American University in 2006, after having spent nine years at George Washington University. Her research focuses on diversity and discrimination. She has written over a dozen peer-reviewed articles in such journals as Journal of Applied Psychology, Group and Organization Management, Human Resource Management, Sex Roles, and Journal of Organizational Behavior and Psychology of Women Quarterly. In addition, she has presented her research at 30 peer-reviewed conferences, has written several book chapters, and has appeared on Dateline, NBC. Dr. Goldberg recently completed a three-year term as Associate Editor of Group and Organization Management, and is on the editorial boards of two other top journals.

Degrees

B.A. (Psychology), State University of NY at Stony Brook; MBA, State University of NY at Binghamton; Ph.D., Georgia State University
Loading ...

OFFICE

KSB - Management
Kogod - 13
Tuesdays 2:45-4:15pm; Wednesdays 3:00-5:00pm
FOR THE MEDIA

To request an interview for a
news story, call AU Communications
at 202-885-5950 or submit a request.
AU Expert
Area of Expertise: Human resource management, diversity, sexual harassment

Additional Information: Caren Goldberg's primary research interest is in the impact of diversity on individuals and work groups. Specifically, her research focuses on the relationship between demographic matches (between supervisors and employees, between employees and their work groups, between interviewers and applicants) and work-related outcomes such as work attitudes, performance ratings, and hiring. She has also done a great deal of research on sexual harassment, focusing on the factors associated with harassment, individual responses to harassment, and the impact of sexual harassment awareness training. She has published 19 articles in scholarly journals, including the Journal of Applied Psychology: Human Resource Management; Psychology of Women Quarterly; Journal of Organizational Behavior; Sex Roles: A Journal of Research; and Group and Organization Management. She has also written three book chapters, edited a textbook, and presented her research at more than 30 conferences. Goldberg recently completed a three-year term as an associate editor of Group and Organization Management, where she remains on the editorial board, and also on the editorial boards of Human Resource Management and the Journal of Management. She has done consulting and executive education for Accenture, the Center for Excellence in Municipal Management, and the Council of Governments. She has served as an expert witness in employment discrimination cases.

Media Relations
To request an interview please call AU Media Relations at 202-885-5950 or submit an interview request form.