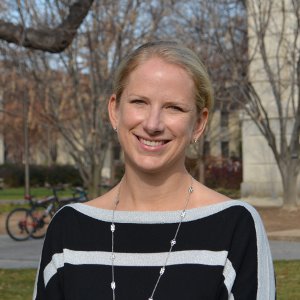 Sarah Knight
Assistant Professor
School of International Service
Additional Positions at AU

Faculty Director, School of International Service Honors Program

Dr. Sarah Cleeland Knight is Faculty Director of the SIS Honors Program and Assistant Professor at American University's School of International Service. Dr. Knight's research focuses on international political economy. She is interested in identifying the winners and losers from globalization and tracking how those groups influence foreign economic policy (trade, exchange rates, and sanctions). She also has written on the history of the Bretton Woods institutions and the global politics of the Internet and electronic commerce. Dr. Knight has received funding for her research from the Ford Foundation, DAAD/American Institute for Contemporary German Studies, and Georgetown University. Before coming to American University, she taught at Georgetown University and worked at the Peterson Institute for International Economics, the USDA's export promotion program, and the international trade office of the Seattle Chamber of Commerce. She lives in Arlington, Virginia, with her husband, Jeff, her two daughters, Grace and Charlotte, and her golden retriever, Blue.

Degrees

PhD, Government, Georgetown University; MA, Foreign Service, Georgetown University; BA, International Studies, University of Washington

Favorite Spot on Campus:

Davenport Lounge


Book Currently Reading:

The Story of Civilization series by Will and Ariel Durant


Languages Spoken:

English (native) and Spanish
Loading ...

OFFICE

SIS-School of Intl Service
SIS - 115C
Mondays 5:30-7:30pm and Thursdays 11:00am-1:00pm
CONTACT INFO

(202) 885-1613 (Office)
FOR THE MEDIA

To request an interview for a
news story, call AU Communications
at 202-885-5950 or submit a request.
Partnerships & Affiliations
American Political Science Association

member

International Studies Association

member
Teaching
Fall 2015

SIS-619 Special Studies in Int'l Pol: Global Int'l Relations Theory
Spring 2016

SIS-619 Special Studies in Int'l Pol: Corp Soc Respons in Glbl Cntxt
Scholarly, Creative & Professional Activities
Selected Publications
"Electronic Commerce," in Renee Marlin-Bennett, ed. The International Studies Association Compendium Project. Second edition. Co-authored with Catherine L. Mann. Forthcoming.
 "The Asian Infrastructure Investment Bank: Three Questions for Sarah Cleeland Knight," American University School of International Service Web site, 3 April 2015.
"It's Time for the United States to Join China's New Multilateral Bank," Points of Order, 23 March 2015.
"Keep China Out of the Trans-Pacific Partnership (for Now)," Points of Order, 14 January 2015.
"Bretton Woods and Monetary Regimes," in Gerard Caprio, ed. Handbook of Key Global Financial Markets, Institutions, and Infrastructure. Oxford: Elesevier Press. 2013.
"Globalization and Compensation in Hard Times: The US Trade Adjustment Assistance Program and the Great Recession," Democracy and Society, Vol. 10, Issue 1 (Fall 2012).
"Divested Interests: Globalization and the New Politics of Exchange Rates," Business and Politics, Vol. 12, Issue 2 (August 2010).
Work In Progress
"Re-Sourcing Technology in America."  In preparation.
Article-length project on conflict minerals and corporate social responsibility.
Article-length project on globalization and compensation in comparative perspective.