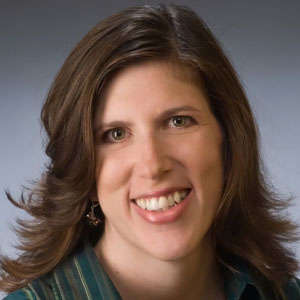 Katie DeCicco-Skinner
Associate Professor
Department of Biology
Dr. DeCicco-Skinner's research interests include cancer biology, cell biology, and immunology. Specifically, her research is focused on studying two of the major inflammatory pathways in the cell, MAPK and NF-kB, to identify how these pathways become inappropriately regulated as a normal cell transitions into a cancerous state. Her research uses a variety of immunological and molecular biology techniques in two separate cancer model systems, squamous cell carcinoma and multiple myeloma.

Degrees

PhD, Nutritional Immunology, Pennsylvania State University, University Park
BS, Biochemistry, Virginia Polytechnic Institute & State University
Loading ...

OFFICE

CAS - Biology
Hurst - 112C
FOR THE MEDIA

To request an interview for a
news story, call AU Communications
at 202-885-5950 or submit a request.
---
Scholarly, Creative & Professional Activities
Grants and Sponsored Research
    
2011 NIH R15 AREA Grant, $390,000 pending 
   
2011 American University Faculty Research Award, $10,000   
   
2008 American University Mellon Grant, $2000   
   
2001 Post Doctoral Fellowship - NIH
   
1999 Society for Experimental Biology and Medicine (SEBM) Travel Grant  
   
1997 Recipient of Paul E. Hand and Uni-Marts, Inc. Travel Grant  
   
1996 Recipient of Graduate Program in Nutrition Competitive Research Award
   
1995 Awarded Outstanding Biochemist for Graduating Class (Virginia Tech)
   
1994-1995 John Pratt Animal Nutrition Senior Research Scholarship
   
1991 John Pratt Freshman Scholarship
               
Selected Publications
   
DeCicco-Skinner, KL, Trovato, EL, Simmons, JK, Lepage, PK, Wiest, J. (2010) Loss of Tumor Progression Locus 2 (TPL2) enhances tumorigenesis and inflammation in two-stage skin carcinoigenesis.  Oncogene. 2010 Oct 11. [Epub ahead of print]
   
Jacobs, S., Lie, DC., DeCicco, KL, Shi, Y., De Luca, L., Gage, FH., Evans, RM (2006) Retinoic acid is required early during adult neurogenesis in the dentate gyrus. Proc. Natl. Acad. Sci.  103: 3902-7.
   
DeCicco, KL., Tanaka, T., Andreola, F., De Luca, LM (2004) The effect of thalidomide on non-small cell lung cancer (NSCLC) cell lines: Possible mediation through PPAR- g . Carcinogenesis.25:1805-12.
   
DeCicco, KL., Youngdahl, JD, Ross, AC (2001) All-trans-retinoic acid and polyriboinosinic:polyribocytidylic acid in combination potentiate specific antibody production and cell-mediated immunity in Lewis rats. Immunology. 104(3): 341-8.
   
DeCicco, KL. Zolfaghari, R., Li, N-Q, Ross, AC (2000) Retinoic acid and Polyriboinosinic: Polyribocytidylic acid act synergistically to enhance the antibody response to tetanus toxoid during vitamin A deficiency: Possible involvement of Interleukin-2 receptor b , Signal Transducer and Activator of Transcription-1, and Interferon Regulatory Factor-1. J. Infectious Disease . 182 Suppl 1: S29-S36.
   
DeCicco, KL and AC Ross (2000) All-trans-retinoic acid and polyriboinosinic: polyribocytidylic acid cooperate to elevate anti-tetanus immunoglobulin G and immunoglobulin M responses in vitamin A-deficient Lewis rats and Balb/c mice.Proc. Nutr. Society 59: 1-11. 
   
Dawson , HD., Li, N-Q., DeCicco, KL., Nibert, JA., and Ross, AC. (1999) Chronic marginal vitamin A status reduces natural killer cell function in aging Lewis rats. J. Nutrition. 129: 1510.
               
Media Appearances
"Genetic Tests Coming To A Drugstore Near You",  WAMA 88.5, 2010
Executive Experience
(2003-Present) Assistant Professor, Department of Biology, American University
(2001-2004) Cancer Research Training Award Postdoctoral Fellow