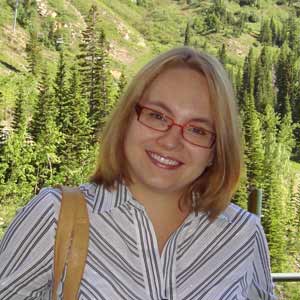 Inga Maslova
Assistant Professor
Department of Mathematics and Statistics
Inga Maslova received her BS in Mathematical Statistics from Vilnius University, Lithuania. She got her MS and PhD in Statistics from Utah State University. She joined the Department of Mathematics and Statistics at American University in 2009. Her primary research interests are time series analysis, wavelet techniques, functional data analysis, and applications to geophysics, hydrology, finance, economics, and climate change problems.

Degrees

PhD, Mathematical Sciences (Statistics), Utah State University, 2009
MS, Statistics, Utah State University, 2005
BS, Mathematical Statistics, Vilnius University, Lithuania, 2003

Languages Spoken:

English, Russian, Lithuanian
Loading ...

OFFICE

CAS - Math & Statistics
Gray - 213
TBA or by Appointment
FOR THE MEDIA

To request an interview for a
news story, call AU Communications
at 202-885-5950 or submit a request.
---
Partnerships & Affiliations
American Statistical Association

member

member

American Mathematical Society

member
Teaching
Fall 2013

CASG-777 Master's Continuing Enrollment

STAT-202 Basic Statistics: Basic Statistics: Bus/Econ

STAT-520 Applied Multivariate Analysis
Scholarly, Creative & Professional Activities
Research Interests
Professor Maslova's main research areas are time series analysis, wavelets, functional data analysis, and applications to geophysics and finance. The current focus of my research is the development of novel statistical methodologies and their applications to hydrology and economics.
Honors, Awards, and Fellowships
AU CAS Mellon Fund Research Award, 2011
AU International Travel Award, 2011
USU School of Graduate Studies Dissertation Fellowship, 2008
Selected Publications
  I. Maslova, P. Kokoszka, J. Sojka, and L.Zhu (2010), Estimation of Sq Variation by Means of Multiresolution and Principal Component Analyses, Journal of Atmospheric and Solar-Terrestrial Physics,  Vol. 72, pages 625 – 632
I. Maslova, P. Kokoszka, J. Sojka, and L. Zhu (2009), Removal of nonconstant daily variation by means of wavelet and functional data analysis, Journal of Geophysical Research, Vol. 114, A03202
P. Kokoszka, I. Maslova, J. Sojka, L. Zhu (2008), Testing for lack of dependence in the  functional linear model, Canadian Journal of Statistics, Vol. 36, No 2, pages 207 -222
P. Kokoszka, I. Maslova, J. Sojka, L. Zhu (2006), Probability tails of wavelet coefficients of magnetometer records, Journal of Geophysical Research-Space Physics, Vol. 111, No. A6, A06202, 10.1029/2005JA011486