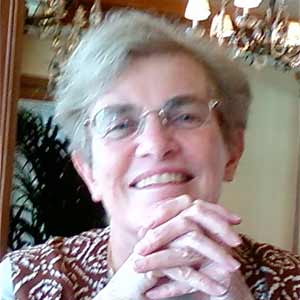 Mary Garrard
Professor Emerita
Department of Art
Additional Positions at AU

Professor Emerita of Art History

Best known for her groundbreaking feminist scholarship, Garrard has drawn on feminist theory and activism to illuminate and reinterpret art of the Italian Renaissance-Baroque period. Her publications include two books and other writings on Artemisia Gentileschi, work that pioneered modern scholarship on a major 17th century Italian artist; and her most recent book, Brunelleschi's Egg: Nature, Art and Gender in Renaissance Italy (2010). With Norma Broude, she co-edited four books on feminism and art history that have become basic texts in American universities; and co-curated the recent exhibition Claiming Space: Some American Feminist Originators for the AU Museum, Katzen Arts Center. Garrard has lectured extensively on Renaissance art, feminist art, and feminist issues in universities, colleges and museums across the country. She was one of the leaders of the feminist movement in art professions, and was the second national President of Women's Caucus for Art.

Degrees

Education: PhD, Johns Hopkins University (1970)
MA, Harvard University (1960)
BA, Newcomb College (Tulane University) (1958)
Loading ...

FOR THE MEDIA

To request an interview for a
news story, call AU Communications
at 202-885-5950 or submit a request.
Scholarly, Creative & Professional Activities
Selected Publications
"Michelangelo in Love: Decoding the Children's Bacchanal," The Art Bulletin, vol. 96 (March 2014), pp. 24-49.
With Norma Broude, Introducing Feminist Art History (2014), an Amazon e-book.
Brunelleschi's Egg: Nature, Art and Gender in Renaissance Italy. Univ. of California Press, 2010.
Artemisia Gentileschi Around 1622: The Shaping and Reshaping of an Artistic Identity. University of California Press, 2001.
Artemisia Gentileschi: The Image of the Female Hero in Italian Baroque Art. Princeton University Press, 1989. Paperback edition, 1991.
"Unraveling the Alba Madonna." The Washington Post, October 5, 2008 (http://www.washingtonpost.com/wpdyn/      content/story/2008/10/03/ST2008100302263.html?sid=ST2008100302263&s_pos=list), interviewed on Raphael's painting in the National Gallery, Washington, along with fellow art historians Leo Steinberg and Alexander Nagel.
"Who Was Ginevra de' Benci? Leonardo's Portrait and Its Sitter Recontextualized," Artibus et Historiae, vol. 53, February, 2006, pp. 23-56.
"Alice Neel and Me," Woman's Art Journal, vol. 27, Fall/Winter 2006, 3-7.
Reclaiming Female Agency: Feminist Art History After Postmodernism. Co-edited with Norma Broude. Univ. of California Press, February 2005.
The Power of Feminist Art: The American Movement of the 1970s, History and Impact. Co-edited with Norma Broude. Harry N. Abrams,1994. Paper edition,1996.
The Expanding Discourse: Feminism and Art History. Co-edited with Norma Broude. HarperCollins, 1992.
Honors, Awards, and Fellowships
Stanford Distinguished Professor in the Humanities, University of Miami, Center for the Humanities, February 2013.
William Fleming Distinguished Visiting Professor, Syracuse University, April 2011.
Lifetime Achievement Award, Mississippi Institute of Arts and Letters, June 2011.
Honoree, First Feminist Art History Conference: "Continuing the Legacy: Honoring the Work of Norma Broude and Mary D. Garrard," American University, Washington DC, November 2010.
Lifetime Achievement Award, National Women's Caucus for Art, 2005
Faculty Legacy Award, American University, voted by CAS alumni as professor who had greatest influence on their lives, 2002
Award from College Art Association, Committee on Women, for "pioneering feminist scholarship" (with Norma Broude), 2000
Honorary doctorate of humane letters, awarded by Millsaps College, Jackson, Mississippi, 1999
Grants and Sponsored Research
American University Mellon Fund Travel Award, September 1998
National Endowment for the Humanities, Fellowship, 1991-92
J. Paul Getty Foundation, subvention to Princeton University Press to support publication of Artemisia Gentileschi, 1987
Mina Shaughnessy Scholars Program Fund for the Improvement of Post-Secondary Education, Department of Education, 1982
American Association of University Women Fellowship, 1978-79
American Council of Learned Societies, 1978-79
Fulbright scholar, Italy, 1963-64

 
Exhibitions/Performances
Claiming Space: Some American Feminist Originators, co-curated with Norma Broude, American University Museum, 2007-08
Professional Presentations
Washington University, St. Louis, "Art versus Nature: A Renaissance Competition in the Key of Gender," October 2008; and Williams College, April 2008
National Museum of Women in the Arts, Washington, DC, "Alice Neel and Me," symposium paper, November 2005
Carleton College, Northfield, MN, "Artemisia's Hand," April 2005
Walters Art Museum, Baltimore, MD, "Sofonisba Anguissola and the Problem of the Woman Artist," October 2004
Seminar leader, Columbia University, NEH National Summer Institute, "Worlds of the Renaissance,", July 20-22, 2004
Vassar College, "Leonardo da Vinci's Enigmatic Ginevra de' Benci: A Problem of Genre,' March 2004
Saint Louis [MO] Art Museum, international symposium on Artemisia Gentileschi, scholarly paper and panel discussion, September 13-14, 2002
National Gallery of Art [DC], paper on Leonardo's Ginevra de' Benci, symposium on Renaissance female portraits, October 2001
Princeton University, "Nature, Art and Gender Ideology in Renaissance Italy," December 1998; and New York University, 1999
Istituto Storico Italo-Germanico, Trento, Italy, "Artemisia Gentileschi: A New Painting and Another Identity," October 1997
Work In Progress
Keynote address for scholarly conference, "Artemisia Gentileschi: Interpreting New Evidence, Assessing New Attributions," Medici Archive Project, Florence, Italy, May 7-8, 2015.