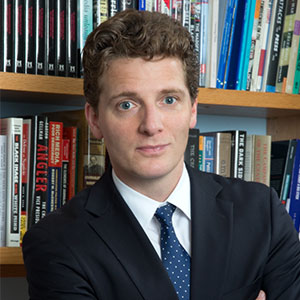 Matthew Nisbet
Associate Professor
School of Communication

Matthew C. Nisbet, Ph.D. is Associate Professor of Communication and Affiliate Associate Professor of Global Environmental Politics and Environmental Science at American University.

Nisbet studies the influence of communication, media and culture on debates over science, technology and the environment. Since 2002, he has authored more than 70 peer-reviewed studies, scholarly book chapters, and reports. His goal has been to develop new knowledge, methods, and strategies that enhance our ability to make effective decisions about science and technology and to overcome the polarized differences that have limited societal progress on environmental problems. In applying this research, Nisbet has worked with journalists, filmmakers, foundation officers, scientists, policy staffers, and advocates.

Among awards and recognition, Nisbet has been a visiting Shorenstein Fellow in Media, Politics and Policy at Harvard University, a Health Policy Investigator at the Robert Wood Johnson Foundation, a Google Science Communication Fellow, and an Osher Fellow at the Exploratorium science center. He currently serves as a member of the National Academies Roundtable Committee on Public Interfaces in the Life Sciences and as an Affiliate Associate Professor with the Climate Change Institute at the University of Maine.

In 2011, the editors at the journal Nature recommended Nisbet's research as "essential reading for anyone with a passing interest in the climate change debate," and the New Republic highlighted his work as a "fascinating dissection of the shortcomings of climate activism."

Read more about Matthew Nisbet's research, studies and articles, courses, and upcoming talks.

Degrees

A.B. Dartmouth College (Government); M.S. Cornell University (Communication); Ph.D. Cornell University (Communication)

Favorite Spot on Campus:

AU library's collaborative meeting rooms

Loading ...

OFFICE

SOC - School of Communication
McCabe - 220
FOR THE MEDIA

To request an interview for a
news story, call AU Communications
at 202-885-5950 or submit a request.
---
Teaching
Spring 2014

COMM-589 Comm, Culture & Environment

COMM-899 Doctoral Dissertation
Summer 2014

COMM-899 Doctoral Dissertation
AU Expert
Area of Expertise: Political communication; public opinion research; intersection between media, politics, and science and environmental issues; citizen activism

Additional Information: Matthew C. Nisbet, PhD, is a social scientist who studies strategic communication in policy making and public affairs with a focus on debates over science, the environment, and public health. His research on climate change communication has been funded by the Nathan Cummings Foundation and the Robert Wood Johnson Foundation, where he serves as a health policy investigator.  In an editorial, the journal Nature called Nisbet's research "essential reading for anyone with a passing interest in the climate change debate."  In 2011, Nisbet was named a Google Science Communication Fellow for his work in this area.  In a second line of research, Nisbet focuses on general questions related to political communication, including the role that new and traditional media play in mobilizing citizens; how strategists take advantage of new technologies and a fragmented media system to target opinion leaders and specialized audiences; and how church, work, or other community influences shape media choices and political views. Nisbet is the author or coauthor of more than 35 research articles and book chapters and serves on the editorial boards for the International Journal of Press/Politics and Science Communication. A veteran of more than 100 media interviews, his commentary and analysis has appeared at leading print and broadcast outlets such as the New York Times, National Public Radio, and BBC radio. He holds an MS/PhD in Communication from Cornell University and an AB in Government from Dartmouth College.

Media Relations
To request an interview please call AU Media Relations at 202-885-5950 or submit an interview request form.