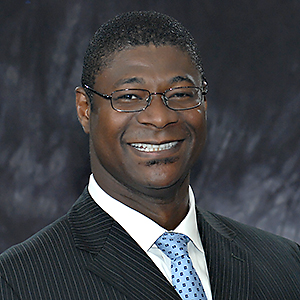 Kwaku Nuamah
Assistant Professor
School of International Service
Kwaku Nuamah is an assistant professor of International Peace and Conflict Resolution.  As a practitioner, Dr. Nuamah has worked in the international development and conflict resolution fields, including as director of research for the Democracy Coalition Project, coordinator of the G-8 Africa Partnership Project at the Council on Foreign Relations, and as a contributor to the National Intelligence Project's military intervention project. He has also provided consultancy services on African conflicts and/ or political development concerns to several institutions including the International Foundations for Election Systems, Management Systems International, Ghana Center for Democratic Development, and the Science Applications International Corporation. He is the co-author of Getting In: Mediators' Entry into the Settlement of African Conflicts (Washington D.C.: United States Institute of Peace, 2006), and has published other articles on contemporary conflict and peacemaking efforts across Africa. He is currently researching implications of Southern Sudan's secession for Africa's boundary norms. 

Degrees

PhD, international relations and conflict management, MA, international relations, Johns Hopkins University, School of Advanced International Studies, BA political science and history, University of Ghana
Loading ...

OFFICE

SIS - School of International Service
SIS - 212
FOR THE MEDIA

To request an interview for a
news story, call AU Communications
at 202-885-5950 or submit a request.
Teaching
Spring 2013

SIS-610 Theories of Violence and War

SIS-619 Special Studies in Int'l Pol: Conflt Prevention/Assessment
Scholarly, Creative & Professional Activities
Research Interests
Dr. Nuamah's research and teaching interests include general theories and practices of conflict management, conflict prevention, cross-cultural conflict analysis, and contemporary African security concerns.
Selected Publications
Getting In: Mediators' Entry into the Settlement of African Conflicts. (With Mohammed O. Maundi, I. William Zartman, and Gilbert M. Khadiagala.) United States Institute of Peace, 2006.   
"U.S. Technical Assistance and Private Sector Development Abroad," In Foreign Aid and Private Sector Development. (C. Lancaster, editor.) Watson Institute, 2006.   
"Case Study: Intervention in Sierra Leone," (With I. William Zartman.) In Military Intervention: Cases in Context for the Twenty-First Century. (W.J. Lahneman, editor.) Rowman and Littlefield, 2004.   
"Media Coverage of the 2000 Election (May 2000 - January 2001)," Research Paper 8. (With D. Smith and J. Temin.) Ghana Center for Democratic Development, 2001.
Honors, Awards, and Fellowships
Recipient, the Henry C. Welcome Fellowship Award for New Faculty, State of Maryland Higher Education Commission, 2007.   
Recipient, Watson Institute for International Studies (Brown University) Post-Doctoral Fellowship, 2004 – 2005.   
Recipient, I. William Zartman Fellowship, Johns Hopkins University – SAIS, 1998.   
Recipient, University of Ghana Post-Graduate Fellowship, 1997-1998.      
Professional Presentations
"The United Nations and Africa's Peace and Security Agenda." The Kofi A. Annan Legacy for Africa Project Consultation III, Georgetown University, Washington, DC, October 24, 2007.   
"Assessing the Kofi Annan Legacy: Peacekeeping and Conflict Resolution." 50th Annual Conference of the African Studies Association Annual, New York City, NY, October 18 – 21, 2007.   
"Examining the African Response to the Darfur Problem." Salisbury University Black History Month Seminar on Darfur, Salisbury, MD, February 20, 2007.   
"Getting in the Way: The Dynamics of Government-NGO Competition in Mediating the Northern Ghana Conflict." African Studies Association Annual Conference, San Francisco, CA, November 16-19, 2006.  
"Competition or Cooperation? NGO-State Relations in Conflict Situations." Annual Hopkins All-University African Studies Conference, Johns Hopkins University, Baltimore, MD, April 2006.   
"Liberal Democracy and Africa's Political Development." Ethiopian Students Association International Workshop on African Governance, University of Maryland, College Park, MD, March 2006.   
"The Colonial Legacy and Modern Political Culture in Africa." Misconceptions About Africa Forum, Brown University, Providence, RI, February 15, 2005.   
"The Uses of Leverage in Third-Party Mediation." International Studies Association Conference, Honolulu, HI, March 2005.   
"U.S. Technical Assistance and Private Enterprise Development in Africa: Trends, Lessons, and Prospects." The Third Forum on Human Development (UNDP), Paris, France, January 2005.   
"Leveraging for Peace: Mapping Power and Task in the Eritrea-Ethiopia Mediation." Annual Hopkins All-University African Studies Conference, Washington, DC, April 2004.
AU Expert
Area of Expertise: Conflict prevention (structural and operational), mediation (tracks one and two), role of nongovernmental organizations in African conflict managment, territorial conflict norms in African international relations

Additional Information: Kwaku Nuamah's research interests include the causes of conflict, conflict prevention, and the processes and tools of management. He has published and presented on these topics and others relating to African studies and conflict. 

Media Relations
To request an interview please call AU Media Relations at 202-885-5950 or submit an interview request form.