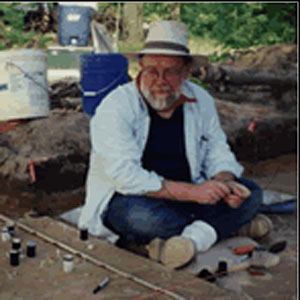 Richard Dent
Associate Professor
Department of Anthropology
Additional Positions at AU

Anthropology Faculty
Affiliate Associate Professor, Department of History

Prof. Dent is the author of Chesapeake Prehistory: Old Traditions, New Directions and a significant number of other publications on the archaeology of the Chesapeake and Middle Atlantic regions. He maintains interests in both prehistoric and historic archaeology. His active program of field investigations in the Potomac Valley currently focuses on the origins of settled village life and the incorporation of horticulture into subsistence bases after AD 1200. He maintains a strong interest in Paleoindian and Southwestern archaeology. Much of his research in historical archaeology has taken place in Annapolis and more recently in Philadelphia. The latter research focused on the excavations of numerous 18th through early 19th century house sites along Arch Street in Old Philadelphia. An important element of his overall research program is a passionate commitment to cultural resources management, as both preservation and as dissemination of archaeological knowledge to the general public.

Degrees

PhD Anthropology, American University. 1979
BA, Anthropology, University of Maryland, College Park. 1975

Languages Spoken:

Spanish
Loading ...

OFFICE

CAS - Anthropology
Hamilton - 301
FOR THE MEDIA

To request an interview for a
news story, call AU Communications
at 202-885-5950 or submit a request.
---
Partnerships & Affiliations
Teaching
Summer 2014

ANTH-235 Early America:The Buried Past
Spring 2015

ANTH-235 Early America:The Buried Past

ANTH-235 Early America:The Buried Past
AU Expert
Area of Expertise: Archaeology, cultural and historic preservation, prehistoric Chesapeake Bay, historic archaeology

Additional Information: Richard Dent is the author of Chesapeake Prehistory: Old Traditions, New Directions and a significant number of other publications about the archaeology of the Chesapeake and Middle Atlantic regions. His interests include prehistoric and historic archaeology. His active program of field investigations in the Potomac Valley focuses on the origins of settled village life and the incorporation of horticulture into subsistence bases after AD 1200. He maintains a strong interest in Paleoindian and Southwestern archaeology. Much of his research in historical archaeology has taken place in Annapolis and more recently in Philadelphia. The latter research focused on the excavations of numerous eighteenth- through early nineteenth-century house sites along Arch Street in old Philadelphia. An important element of his overall research program is a passionate commitment to cultural resources management, as both preservation and as dissemination of archaeological knowledge to the general public.

Media Relations
To request an interview please call AU Media Relations at 202-885-5950 or submit an interview request form.