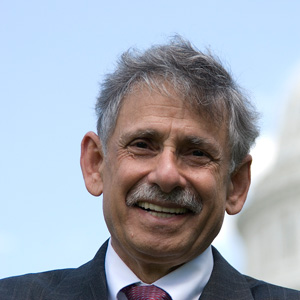 Robert Lehrman
Adjunct Professor
School of Communication
Bob Lehrman is an adjunct professor of Public Communication. He is a novelist, teacher, and speechwriter for dozens of Democratic political figures including Vice President Al Gore. He's author of the recently released book The Political Speechwriter's Companion (CQPress 2009).

Lehrman, has taught public speaking at American University since 1998, and in 2005 created SOC's first course in Speechwriting. He now team-teaches that course with Professor Eric Schnure. He received the 2010 University Faculty Award for Outstanding Teaching in an Adjunct Appointment.

Lehrman lives in Washington DC, with his wife, Dr. Susan Thaul, an epidemiologist at the Congressional Research Service. The couple has two grown children.


Degrees

Tufts University and the University of Iowa's Writer's Workshop
Loading ...

FOR THE MEDIA

To request an interview for a
news story, call AU Communications
at 202-885-5950 or submit a request.
AU Expert
Area of Expertise: Speechwriting, public speaking, strategic communication, political communication

Additional Information: Robert (Bob) Lehrman, former chief speechwriter to Vice President Al Gore, is author of the book The Political Speechwriter's Companion: A Guide for Speakers and Writers (CQ Press, 2009), which has received extraordinary praise from Democrats and Republicans, academics, and journalists for its innovative and nonpartisan approach and is now in use on many campuses. He teaches public speaking and other courses in AU's School of Communication. In 2005, he created the school's popular course in speechwriting, making him one of the few college educators to present a graduate-level course in the subject. In 2010 he cofounded the new commentary site for speechwriters PunditWire.com, where he contributes regular columns. Lehrman has spent more than three decades writing for political figures, corporate and nonprofit CEOs, and a variety of celebrities, including Bradley Whitford, Susan Sarandon, and Courtney Love. He was most recently speechwriter to the chairman and CEO of Pfizer, Inc. Before joining Pfizer, Lehrman ran his own business, Lehrman Communications, with clients that included a former president, presidential candidates, and dozens of other clients. During the 2004 presidential campaign, he took a leave from his business to serve as chief speechwriter for the Democratic National Committee and in 2006 wrote Whitford's narration for the award-winning Alliance for Justice documentary, Quiet Revolution. He has presented speechwriting clinics at the University of Southern California, the National Education Association, and the Ragan National Speechwriters Conference in Washington, D.C., among others. A graduate of the University of Iowa Writers' Workshop, where he studied with Kurt Vonnegut and Richard Yates, Lehrman has written other books, including three award-winning works for young adults, and a highly praised novel for adults. Under his own name, Lehrman also writes and speaks about politics and language including op-eds in the Washington Post, Politico, AOL News, and two 2011 cover stories in the Christian Science Monitor Sunday Magazine. Last year, American University named Lehrman its adjunct of the year for 2010.

Media Relations
To request an interview please call AU Media Relations at 202-885-5950 or submit an interview request form.