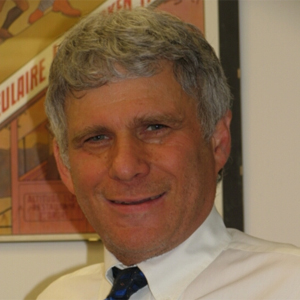 Robert Lerman
Professor
Department of Economics
Professor Lerman conducts research and publishes on employment, income support, and youth development, especially as they affect low-income populations. In the 1970s, he worked on reforming the nation's income maintenance programs and on youth employment policies as staff economist for both the Congressional Joint Economic Committee and the U.S. Department of Labor. He was one of the first scholars to examine the patterns and economic determinants of unwed fatherhood and to propose a youth apprenticeship strategy in the U.S. He is currently an Institute Fellow at Urban Institute and a Research Associate at IZA in Bonn, Germany. Dr. Lerman is current serving as the President of the Society of Government Economists.

Degrees

PhD, MIT
AB, Brandeis University
Loading ...

OFFICE

CAS - Economics
Kreeger - 123
T 5:30-7:00 PM
F 11:30 AM-1:00 PM
By appointment
FOR THE MEDIA

To request an interview for a
news story, call AU Communications
at 202-885-5950 or submit a request.
---
Scholarly, Creative & Professional Activities
PROFESSIONAL ACTIVITIES
In addition to serving as Professor of Economics, Dr. Lerman is a Senior Fellow at the Urban Institute (www.urban.org) and a Research Fellow at IZA in Berlin (www.iza.org). He has published research and policy analyses on employment, income support, and youth development, especially as they affect low-income populations. In the 1970s, he worked on reforming the nation's income maintenance programs and on youth employment policies as staff economist for both the Congressional Joint Economic Committee and the U.S. Department of Labor. He was one of the first scholars to examine the patterns and economic determinants of unwed fatherhood and to propose a youth apprenticeship strategy in the U.S. Dr. Lerman served on the National Academy of Sciences panel examining the U.S. post-secondary education and training system for the workplace. He has testified before congressional committees on youth apprenticeship, child support policies, and the information technology labor market. His recent research deals with the impact of family structure on employment and earnings, with assets for low-income families, and with apprenticeship in the United States and other countries. As Chair of the AU Department of Economics, he won the University Award for Outstanding Contributions to Academic Development for conceiving and implementing the MA in Financial Economics for Public Policy. In Fall 2007, Dr. Lerman was elected to serve on the Policy Council of the Association for Public Policy and Management. Dr. Lerman earned his A.B. at Brandeis University and his Ph.D. in economics at MIT.