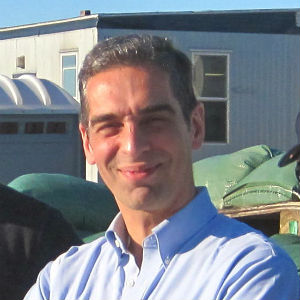 Anthony Wanis-St. John
Associate Professor
School of International Service
Additional Positions at AU

Director, International Peace and Conflict Resolution MA program

Dr. Anthony Wanis-St. John researches  international negotiation: military negotiations, ceasefires, humanitarian negotiations and peace processes in particular. He has created several advanced courses on negotiation for SIS, ranging from interpersonal skills and analysis to complex multilateral challenges. He also conducts advanced negotiation, mediation and conflict resolution trainings for US military and civilian agencies, international organizations, humanitarian NGOs as well as businesses. He is an advisor to the Academy of International Conflict Management and Peacebuilding at the United States Institute of Peace. His work also supports civil-military integration for the US government.

Degrees

PhD, International Relations, Tufts University, Fletcher School of Law and Diplomacy MA, Law and Diplomacy, Tufts University, Fletcher School of Law and Diplomacy BS, Human Services, St. John's University, magna cum laude

Favorite Spot on Campus:

Kay Chapel, SIS Atrium


Favorite Place in Washington DC:

Capital Crescent Trail; Folger Shakespeare Library


Book Currently Reading:

The Silmarillion, J.R.R. Tolkien


Languages Spoken:

Spanish, French, and a bit of Arabic
Loading ...

OFFICE

SIS-School of Intl Service
SIS - 206
Tuesdays 2 to 5pm
FOR THE MEDIA

To request an interview for a
news story, call AU Communications
at 202-885-5950 or submit a request.
---
Scholarly, Creative & Professional Activities
Selected Publications
"International Conflict Resolution: 'From Practice to Knowledge and Back Again," in Deutsch, Coleman and Marcus, eds. Handbook of Conflict Resolution, 3rd ed., 2014 (with Suzanne Ghais)
"Indigenous Peacebuilding," in Roger Mac Ginty, ed., Routledge Handbook of Peacebuilding (London: Routledge, 2013)
"Impediments to trade across the Green Line in Cyprus: The role of classic barriers and trust," with Omer Gokcekus, Dennis Nottebaum and Jessica Henson, Journal of Peace Research vol. 49, no. 6 (November 2012)
"Ancient Peacemakers: Exemplars for Humanity," in Susan Allen Nan, Andrea Bartoli, Zachariah Mampilly, eds. Peacemaking: From Practice to Theory (Praeger, 2011), pp. 563-581
Back Channel Negotiation: Secrecy in the Middle East Peace Process (Syracuse University Press, 2011).
Conflict Prevention in the New Security Context: The Case of Macedonia (with Anton Grizold, Marina Mitrevska, Vlado Buchkovski), Open Society Institute of Macedonia, 2009).
"Comparative Peace Processes," in T. McElwee, B.W. Hall, J. Liechty, J. Garber, eds., Peace, Justice and Security Studies: A Curriculum Guide, 7th ed. (Lynne Rienner Publishers, 2009).
"Civil Society and Peace Negotiations: Confronting Exclusion," International Negotiation, vol. 13, no. 1 (2008) with Darren Kew.
"Peace Processes, Secret Negotiations and Civil Society," (guest editor of special thematic issue)

,

International Negotiation, vol. 13, no. 1 (2008).
"Back Channel Negotiation: International Bargaining in the Shadows," Negotiation Journal, vol. 22, no. 2 (2006).
Professional Presentations
"Building More Inclusive Political Transitions: the Syria Case," Experts meeting, Institute for Inclusive Security, Washington, DC, July 18, 2013
"Shooting for Peace: Ceasefire Negotiations," Paper presented at the 26th Annual Conference of the International Association of Conflict Management, July 3, 2013, Tacoma, WA
"Indigenous Reconciliation Rituals: Complementarity and Tension with International Transitional Justice Practices," paper presented at Indigenous Conflict Management Conference, Kennesaw State University, Atlanta, GA, April 21, 2012
"Future of Negotiations in the Middle East Peace Process," Chair of Panel Discussion organized by American University Negotiation Project, School of International Service, April 11, 2012
"Middle East Peace Process Dynamics" guest lecture in Prof. Boaz Atzili Middle East Politics course, American University, School of International Service, Washington DC, March 20, 2012
"Negotiation in the Battle Space," presentation and simulation held at Marine Corps Command and Staff College, Marine Corps University, Quantico, VA, January 10, 2012
"Trust and Trade Across the Green Line in Cyprus," Washington Interest Group on International Negotiation at Johns Hopkins University, School of Advanced International Studies, Washington, DC, December 9, 2011
"Negotiation and Mediation in the Military Context," guest lecture in Amb. John McDonald's Conflict Resolution and Peacebuilding course at the Industrial College of the Armed Forces, National Defense University, Washington DC, November 15, 2011
"The Link between Exclusive Peace Processes and Inclusive Peacebuilding," Fletcher School Doctoral Conference, Tufts University, Medford, MA, September 30, 2011
"Ten Reasons Why Peace Process Negotiations Fail," AU Negotiation Project all day simulation, American University, School of International Service, Washington DC, September 24, 2011
"Interagency Conflict Assessment Framework—Uzbekistan," invited conflict assessment expert, facilitated by US Department of State, Coordinator for Reconstruction and Stabilization, Washington DC, April 26, 2011
"Negotiation for Military Observer Groups," US Army and US Military Observer Group-Washington, Quantico, VA, April 16, 2011.
Grants and Sponsored Research
Fulbright Senior Specialists Scholarship 2009;  Curricular collaboration with the University of Ljubljana, Slovenia
Palestinian American Research Center Post Doctoral Fellowship, 2005
Harvard Law School, Program on Negotiation Doctoral Research Fellowship, 1999-2000
Work In Progress
"Shooting for Peace: Negotiation of Ceasefires in Civil Wars."